Healthy Appetizers
Healthy appetizers and healthy snacks are becoming increasingly popular these days, as our awareness grows about the positive effects heatlhy foods and good nutrition can have on our lives. What is considered to be healthy appetizers can vary from person to person. While some might think of vegetable appetizers and vegetable snacks as healthy, others might think of
appetizers made with lean meats, seafood or whole grains as healthy. Those who are following a restricted diet might prefer low calorie snacks, while others might prefer appetizers with a low sugar content. No matter what we think a nutritional snack might be, one thing is for certain - healthy appetizer recipes always offer freshness, color and full flavor that can't be denied! Whether you're looking for party appetizers, holiday appetizers, anytime snack food or even healthy snacks for kids (also see
Kid Appetizers
for more kid-friendly appetizers), it's nice to know that there are now plenty of healthy recipes available.
Because healthy snacks can be interpreted in so many ways, these Healthy Appetizers pages contain a variety of appetizer recipes for your browsing pleasure. Within these Healthy Appetizer pages, you'll find recipes for
vegetable appetizers
,
chicken appetizers
,
seafood appetizers
,
nut appetizers
and even a fruit appetizer (with more to come). Each appetizer recipe has its own unique healthy qualities, so the choice is yours as to which of these healthy appetizers you'd like to try!
Healthy Appetizer Recipes ▼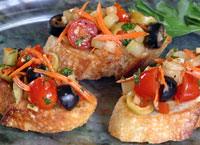 Olive and Tomato Bruschetta
is a colorful and healthy crost ini appetizer recipe featuring halved grape tomatoes, sliced green and black olives, diced celery and onion, julienned carrot and finely chopped parsley, all tossed together with olive oil and balsamic vinegar, then seasoned to taste with salt and pepper. This mixture is spooned onto your choice of grilled or broiled slices of baguette style bread.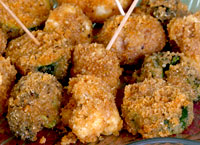 Parmesan Veggie Bites
feature broccoli florets, cauliflower florets, sliced zucchini and mushrooms that are are dipped in melted butter then coated with a seasoned Parmesan cheese and bread crumb mixture. The Parmesan and bread crumb-coated vegetables are then baked in the oven for a short 15-18 minutes, until the coating has turned golden and crispy and the vegetables have become tender crisp.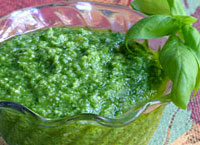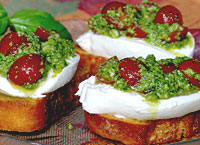 Looking for new delicious appetizer ideas? This crostini appetizer recipe is healthy and delicious, is loaded with vibrant color and presents itself with true elegance.
Pesto Cheese Crostini with Cherry Tomatoes
features slices of baguette that have been brushed with olive oil and baked until lightly crispy. These baked crostini are topped with Burrata (or other cheese of your choice) and a delicious basil pesto and cherry tomato mixture.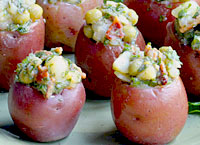 Red Potato Cups
make a finger food great appetizer or snack or even a side dish in place of potato salad. This baby red potato recipe features boiled small red potatoes that have been hallowed out and stuffed with a tangy red potato salad made with diced red potato, fresh herbs, bacon, peas, Dijon mustard, red wine vinegar and olive oil. These adorable snacks are small enough to pop in your mouth all at once or can be eaten with a fork.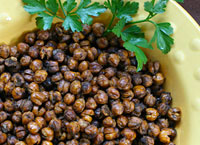 This
Roasted Chickpeas with Garam Masala recipe
is a great way to serve a tasty snack that has a delightful crispy crunch as well as nutritional health benefits! This fun appetizer recipe features canned chickpeas (also known as garbanzo beans), garam masala (an Indian spice), olive oil and salt. The chickpeas are baked with the oil and spice mixture until they turn brown and crispy. Great for parties or for snacking anytime!