Tailgate Food
Although these pages do contain tailgate appetizer recipes, they are appropriately entitled "Tailgate Food" because the term "tailgate food" incorporates much more than just snack foods! Chances are you have landed on this page because you know what a tailgate party is, and are looking for some tailgate party food ideas. For those who are not familiar with what tailgate food is, let's go over a few things about tailgate parties.
What is a tailgate party? Well, let's first begin with the term (the noun form), "tailgate." A tailgate is the back part of a car (let's call it a door) that is hinged on the bottom and opens from the top down. Tailgates are typically found in station wagons (do you remember those?), pickup trucks, or sport utility vehicles. When the tailgate is opened, it can be used much like a table, whether it be for tools, picnic and beach supplies, or of course, tailgate party food and tailgate party accessories! Traditionally, tailgate party food is tailgate party food and accessories! Keep in mind that people who drive vehicles without tailgates also join in on the tailgate party fun!
Now that we've established what a tailgate is, let's talk about tailgate parties. Tailgate parties are traditionally held around football and baseball season, but are also popular with other sports, such as soccer, basketball and hockey. where grilled food and festive
beverages are the main players. Tailgate parties usually take place in parking lots nearby whatever sport is taking place. The party goers will park their vehicles, open their tailgates and set up their barbecue grills and ice chests. Everyone then gathers and enjoys the outdoors and the great tailgate party food, while popping open a soft drink or a beer or two to celebrate their chosen sport. Though these party goers are often called, "tailgaters," they are not to be confused with those drivers on the road who follow too closely behind the car in front of them. In any case, tailgate parties are the perfect way to celebrate the sport season, and are just as fun as they sound!
Tailgate party food usually consists of foods we'll often eat at picnics, such as hambrugers, hot dogs, baked beans, and salads such as coleslaw and potato salad. Easy quick snacks and finger foods (also sometimes referred to as tailgate appetziers) are also perfect for tailgate parties, because the main focus of tailgate parties is to have fun and socialize outdoors in a simple, easy and uncomplicated way. Tailgate party food can also come in the form of healthy snack foods, depending on the ingredients and how the food is prepared. Barbecued chicken and buffalo wings are light and healthy, and a container of fresh vegetables with some sort of dip will certainly be a big hit! Tailgate parties can also be a family event, so it's a good thing that tailgate party food can also be translated as perfect kids' snacks!
Some of these tailgate recipe links will direct you to
LoveThatFood.com
, a website I designed to share a larger variety of food recipes. LoveThatFood will open in a separate new window, allowing you to continue browsing appetizer recipes on this website. While you browse these pages for tailgate party food ideas, keep in mind that while tailgate food is great for outdoor tailgate parties, you certainly don't need to be outdoors to enjoy tailgate food! Tailgate parties are all about simplicity and having fun. You certainly don't need to hire an event planner for this type of event. The bottom line for planning for a tailgate party is to keep it simple, fun and easy!
Tailgate Recipes ▼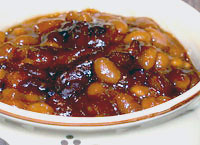 This
Barbecue Baked Beans recipe
is a very easy side dish to make and goes wonderfully with any lunch or dinner barbecue dish or other meat dishes, including chicken, beef and pork. These beans are easy to pack up and take on a BBQ, picnic, party or any other event, and if you own a slow cooker or crock pot, can be kept warm for hours. Large bits of cooked bacon or chunks of ham can also be added to these beans if preferred.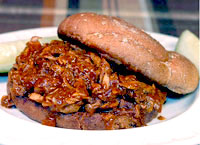 This
slow cooker BBQ Pork Sandwich recipe
is not only very easy, it will give you that delicious and distinct home-cooked flavor that can only be derived from combining all the right flavors and letting them simmer in your own kitchen all day. All you need is a little ketchup, water, flavorings and spices, sliced pork (almost any cut will do) and some hamburger buns, French rolls or even toasted bread, and you're good to go!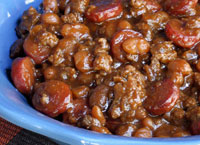 Beanie Weenie
(also often referred to as Beanie Weenies or Beans and Franks) is one of those quick and easy recipes you can fall back on on when you don't have a lot of time or energy to prepare dinner, but you want something tasty that your kids and you will enjoy. This simple skillet dish also provides great leftovers that heat up in minutes. All you need is some ground beef, any style of weenies and a can of baked beans!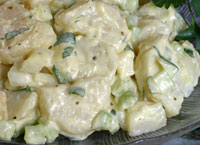 If you haven't yet tried cooking with beer, this
Beer Potato Salad recipe
is the perfect place to start! This Beer Potato Salad uses a modest amount of beer to add moisture and a nice twist of flavor. The beer flavor is subtle enough that some won't even taste it. Diced celery and diced onions give this potato salad a nice added crunch and festive flavor, and when combined with some chopped fresh parsley, a nice boost of color!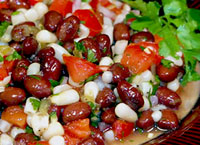 Black Bean and Corn Salsa
is a vibrant and healthy salsa recipe that tastes delicious with
Tortilla Chips
,
Crostini
or other crunchy dipping snacks. While most salsa recipes contain tomatoes and/or tomato sauce, onion and cilantro, this festive salsa recipe combines black beans, kernel corn, tomatoes, red bell pepper, diced green chiles and fresh chopped cilantro, giving it unique and delightful flavor and texture.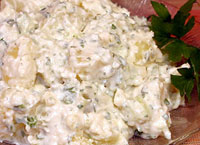 Blue Cheese Potato Salad
is a distinctive and delicious potato salad that stands apart from the rest! Real chunks of crumbled blue cheese are featured in this potato salad recipe along with sour cream, green onions, celery, wine vinegar and fresh parsley. This potato salad has the unique flavor and tanginess you can only get from true blue cheese. Photo shows this potato salad made with Gold Yukon potatoes.