Tailgate Food
Although these pages do contain tailgate appetizer recipes, they are appropriately entitled "Tailgate Food" because the term "tailgate food" incorporates much more than just snack foods! Chances are you have landed on this page because you know what a tailgate party is, and are looking for some tailgate party food ideas. For those who are not familiar with what tailgate food is, let's go over a few things about tailgate parties.
What is a tailgate party? Well, let's first begin with the term (the noun form), "tailgate." A tailgate is the back part of a car (let's call it a door) that is hinged on the bottom and opens from the top down. Tailgates are typically found in station wagons (do you remember those?), pickup trucks, or sport utility vehicles. When the tailgate is opened, it can be used much like a table, whether it be for tools, picnic and beach supplies, or of course, tailgate party food and tailgate party accessories! Traditionally, tailgate party food is tailgate party food and accessories! Keep in mind that people who drive vehicles without tailgates also join in on the tailgate party fun!
Now that we've established what a tailgate is, let's talk about tailgate parties. Tailgate parties are traditionally held around football and baseball season, but are also popular with other sports, such as soccer, basketball and hockey. where grilled food and festive
beverages are the main players. Tailgate parties usually take place in parking lots nearby whatever sport is taking place. The party goers will park their vehicles, open their tailgates and set up their barbecue grills and ice chests. Everyone then gathers and enjoys the outdoors and the great tailgate party food, while popping open a soft drink or a beer or two to celebrate their chosen sport. Though these party goers are often called, "tailgaters," they are not to be confused with those drivers on the road who follow too closely behind the car in front of them. In any case, tailgate parties are the perfect way to celebrate the sport season, and are just as fun as they sound!
Tailgate party food usually consists of foods we'll often eat at picnics, such as hambrugers, hot dogs, baked beans, and salads such as coleslaw and potato salad. Easy quick snacks and finger foods (also sometimes referred to as tailgate appetziers) are also perfect for tailgate parties, because the main focus of tailgate parties is to have fun and socialize outdoors in a simple, easy and uncomplicated way. Tailgate party food can also come in the form of healthy snack foods, depending on the ingredients and how the food is prepared. Barbecued chicken and buffalo wings are light and healthy, and a container of fresh vegetables with some sort of dip will certainly be a big hit! Tailgate parties can also be a family event, so it's a good thing that tailgate party food can also be translated as perfect kids' snacks!
Some of these tailgate recipe links will direct you to
LoveThatFood.com
, a website I designed to share a larger variety of food recipes. LoveThatFood will open in a separate new window, allowing you to continue browsing appetizer recipes on this website. While you browse these pages for tailgate party food ideas, keep in mind that while tailgate food is great for outdoor tailgate parties, you certainly don't need to be outdoors to enjoy tailgate food! Tailgate parties are all about simplicity and having fun. You certainly don't need to hire an event planner for this type of event. The bottom line for planning for a tailgate party is to keep it simple, fun and easy!
Tailgate Recipes ▼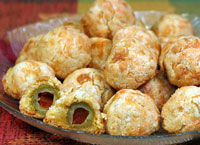 Olive Cheese Balls
is a fun appetizer recipe that is easy to prepare and cooks in just 15 minutes. The dough is made with a simple mixture of cheddar cheese, Parmesan cheese, butter and flour, and offers a wonderful complimentary flavor and crunch to green olives. These appetizers are tasty when served warm, at room temperature, or cold right from the fridge! Delicious served with
Ranch Dressing
or
Zesty Ranch
for dipping!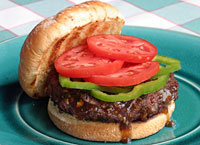 Polynesian Teriyaki Burgers
feature tender and juicy beef patties marinated in a flavorful sauce that combines soy sauce, brown sugar, fresh ginger root and Worcestershire sauce. These burgers are topped with thinly sliced fresh green bell pepper rings and tomato slices, which go perfectly with the Polynesian theme and add freshness and wonderful crunch. The marinade is also used for basting, giving these patties added flavor.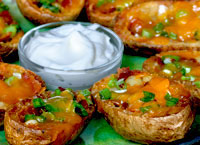 What could be better as a tasty and fun appetizer or side dish than some crispy potato skins filled with all the right goodies?! These
Potato Skins
are first baked, then cut into halves. Some of the pulp is removed, then they're then deep-fried until crispy. The crispy potatoes are then seasoned and filled with crumbled bacon, diced green onion and shredded cheddar cheese, then placed under the broiler until the cheese melts. A big hit!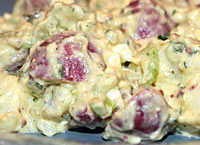 Red Potato Salad
is creamy and delicious and just as pleasing to the eye! This potato salad features quartered small red potatoes hard-cooked eggs, sliced celery, sliced green onions, chopped fresh parsley and diced sweet pickles, tossed with a delicious yellow-tinted creamy and tangy dressing, producing a wonderful blend of flavors. Delicious as a side dish, and perfect for picnics, barbecues, parties or any social event.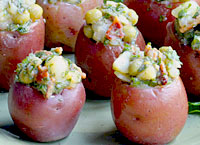 Red Potato Cups
make a finger food great appetizer or snack or even a side dish in place of potato salad. This
baby red potato recipe
features boiled small red potatoes that have been hallowed out and stuffed with a tangy red potato salad made with diced red potato, fresh herbs, bacon, peas, Dijon mustard, red wine vinegar and olive oil. These adorable snacks are small enough to pop in your mouth all at once or can be eaten with a fork.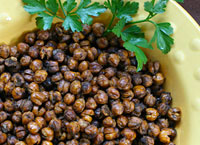 This
Roasted Chickpeas with Garam Masala recipe
is a great way to serve a tasty snack that has a delightful crispy crunch as well as nutritional health benefits! This fun appetizer recipe features canned chickpeas (also known as garbanzo beans), garam masala (an Indian spice), olive oil and salt. The chickpeas are baked with the oil and spice mixture until they turn brown and crispy. Great for parties or for snacking anytime!