Healthy Appetizers
Healthy appetizers and healthy snacks are becoming increasingly popular these days, as our awareness grows about the positive effects heatlhy foods and good nutrition can have on our lives. What is considered to be healthy appetizers can vary from person to person. While some might think of vegetable appetizers and vegetable snacks as healthy, others might think of
appetizers made with lean meats, seafood or whole grains as healthy. Those who are following a restricted diet might prefer low calorie snacks, while others might prefer appetizers with a low sugar content. No matter what we think a nutritional snack might be, one thing is for certain - healthy appetizer recipes always offer freshness, color and full flavor that can't be denied! Whether you're looking for party appetizers, holiday appetizers, anytime snack food or even healthy snacks for kids (also see
Kid Appetizers
for more kid-friendly appetizers), it's nice to know that there are now plenty of healthy recipes available.
Because healthy snacks can be interpreted in so many ways, these Healthy Appetizers pages contain a variety of appetizer recipes for your browsing pleasure. Within these Healthy Appetizer pages, you'll find recipes for
vegetable appetizers
,
chicken appetizers
,
seafood appetizers
,
nut appetizers
and even a fruit appetizer (with more to come). Each appetizer recipe has its own unique healthy qualities, so the choice is yours as to which of these healthy appetizers you'd like to try!
Healthy Appetizer Recipes ▼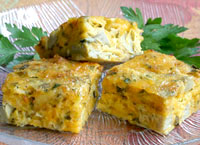 Artichoke Frittatas
are delicious little egg squares made with egg, cheddar cheese, marinated artichoke hearts, green onions, garlic, parsley and crumbled flaky crackers. These egg snacks are similar to quiche, though have a firmer and chewier texture, making them perfect as appetizers or as a side or main dish for breakfast or brunch.
Artichoke Frittatas
are delicious served hot from the oven or chilled.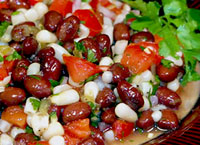 Black Bean and Corn Salsa
is a vibrant and healthy salsa recipe that tastes delicious with
tortilla chips
,
crostini
or other crunchy dipping snacks. While most salsa recipes contain tomatoes and/or tomato sauce, onion and cilantro, this festive salsa recipe combines black beans, kernel corn, tomatoes, red bell pepper, diced green chiles and fresh chopped cilantro, giving it unique and delightful flavor and texture & vibrant color!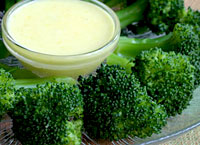 Broccoli with Hollandaise Sauce
can be served as a side dish or as an elegant appetizer for parties and events, and is a delicious way to add flavor and texture to this popular vegetable. The easy Hollandaise Sauce recipe is made with lightly seasoned egg yolks and butter briefly cooked together over low heat, and is flavored with a hint of lemon, giving the perfect complimentary flavor to crisp-tender broccoli florets.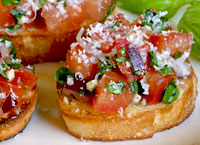 Caesar Bruschetta
is one of those incredibly easy bruschetta recipes, featuring chopped tomatoes, chopped fresh basil leaves, diced red onion and minced fresh garlic. These fresh and colorful ingredients are tossed with a high quality Caesar dressing your choice, then a small amount of the tomato mixture is scooped onto small slices of toasted bread, creating beautiful and elegant finger food appetizers your guests will love!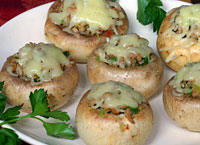 This
Cheese and Sausage Stuffed Mushroom recipe
is very easy to prepare, and produces bite-size mushroom appetizers with colorful eye appeal and full festive flavor! These tasty stuffed mushrooms are filled with a sautéed mixture of crumbled hot Italian sausage (sweet Italian sausage can be used instead, if preferred), minced garlic, diced green onions and diced mushroom stems, and some dried Italian herbs and other seasonings.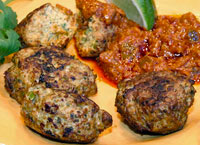 Chicken Koftas
are meatballs made with a mixture of minced chicken, spices and herbs. This
kofta recipe
is an Indian version consisting of chicken breasts that are quickly and easily minced together in a food processor with some Indian and other common spices and seasonings. The minced mixture is then formed into meatballs and fried in a modest amount of oil, then served with lime pickle.