Baked Crostini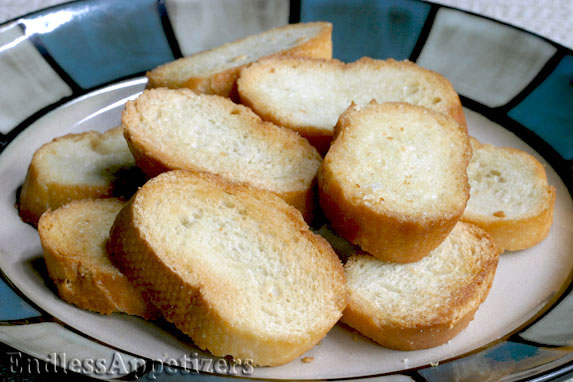 Yield:
As many as needed.
Cook Time:
About 40 minutes
Tips:
Great as an appetizer for parties, holidays or any crowd, or as a snack anytime.
Suggestion:
Top with an endless variety of food combinations such as meats and cheeses, cheese spreads, sandwich fillings, vegetables, and more. See Crab Crostini.
Crostini (also sometimes referred to as Bruschetta or Canapé when topped with savory foods) are miniature slices of toasted (or baked) bread typically made from baguettes (long, thin loaves of French bread about 2-3 inches in diameter). Served as an appetizer, they can be used as a base for an endless variety of food toppings. (Note: Stores often carry Italian and sourdough baguette-style loaves, which can be used as well.) Crostini make wonderful easy finger food snacks for parties,
holidays, or other events, and are also perfect for anytime snacking. Depending on the toppings you use to decorate these mini toasts, your crostini can be traditional, unique, spicy, fun or elegant. You can top crostini with seafood spreads, such as
Crab Crostini
, or top them with with meat and cheese combinations or vegetable combinations with any number of flavorings, dressings, sauces, etc. Tomatoes with feta cheese, or asparagus with Prosciutto, using Italian or other-flavored spreads make delicious crostini, for example. You can make as many or as little of these Crostini toasts as you like, then store them in a plastic bag or other air-tight container until you are ready to top them. You can also make your toppings in advance and store them in the refrigerator until you're ready to serve the Crostini. Because these Baked Crostini are seasoned with olive oil and garlic, they are tasty on their own as well, and can be served instead of or in addition to crackers. They are also fabulous with soup, whether broken into pieces and placed on top of the soup (like soup crackers or croutons) or used for dipping into the soup.
Ingredients
1 baguette (or other long and narrow Italian, French, or sourdough bread)
1/4 cup olive oil (or more as needed)
2-3 cloves garlic, minced
garlic salt
Directions
Preheat oven to 350° F.
Slice baguette into 1/4 to 1/2-inch-thick slices. Set aside.
In a small
mixing bowl
, mix olive oil with minced garlic. Spread olive oil and garlic mixture over all slices of bread. lightly season each slice with a little garlic salt. Place bread slices on baking sheet and bake for about 10 minutes, or until edges begin to turn light golden brown.
Top with toppings of your choice. You can top them all with one type of topping, or use a variety of toppings for variety.
Other recipes you might like: