Broiled Crostini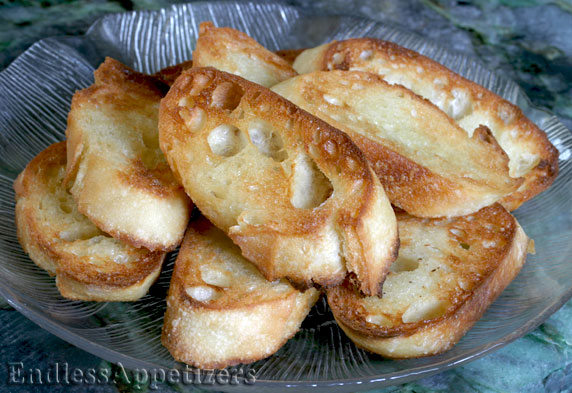 Yield:
Amount of servings depends on width and length of bread used. Baguettes 2-3 inches in width will produce about 15-25 slices, depending on length.
Tips:
Slices from wider loaves of bread may be cut in half to produce smaller servings. Regular, Italian or French baguettes may be used, or any other narrow bread. For a crispier and more crumbly crostini recipe, see
Baked Crostini
.
Suggestion:
Top with any variety of ingredients. For serving ideas, simply browse through
Crostini recipes
.
This recipe for Broiled Crostini (small toasted slices of bread used for topping with various ingredients to be served as appetizers) produces a different result than
Baked Crostini
, though both are equally tasty and can be used for the same purpose. With Broiled Crostini, the slices of bread are cooked more quickly under direct heat, and the crunchiness tends to be contained more on the surface of the bread, while the chewiness is still retained on the inside.
Baked Crostini
on the other hand, produces a more crumbly toasted bread that crunches all the way through when one bites into it,
much like crackers. Both Broiled Crostini and
Baked Crostini
are tasty in their own way, and can be used for topping with a variety of ingredients or can be used for dipping into
dips
. Some toppings are also best used with fresh uncooked bread slices, such as with
Cranberry and Goat Cheese Canapés
.
When it comes to choosing a loaf of bread to make crostini slices, baguettes are most commonly used, because they produce small slices of bread that are the perfect size for finger food appetizers. Baguettes are long loaves of bread, normally 2-3 inches in width, and can be found in either French or Italian style loaves. Ciabatta bread is delightfully chewy, and is also delicious when used for crostini or bruschetta. If Ciabatta loaves are larger in width, bread slices can be cut in half to produce smaller appetizer sizes. When served in small bite-size servings, crostini and bruschetta are also sometimes referred to as canapés. Though crostini are traditionally called bruschetta when topped with a mixture of diced tomatoes, herbs and olive oil or cured meats, crostini can actually be topped with almost any ingredient imaginable. To browse a variety of great topping ideas for crostini, see
Crostini Appetizers
.
Ingredients
1 Italian, French or other baguette loaf
olive oil (as needed for brushing on bread slices)
1 large garlic clove, sliced in half width-wise
Directions
Arrange oven rack 4-6 inches below heating unit and preheat broiler.
Cut a baguette or other narrow loaf of bread into 1/4 to 1/2-inch-thick slices (1/4-inch slices are good for dipping into dips, while 1/2-inch slices are good for dipping as well as topping wth ingredients) and arrange on a baking sheet. Pour a little olive oil (about 2 tablespoons) into a very small bowl. Using a
pastry brush
, brush tops of bread slices with olive oil. Turn bread slices over and brush with olive oil again, adding more olive oil to bowl as needed.
Place baking sheet with bread slices under broiling unit and watch closely. As soon as bread slices turn golden brown around the edges and are just beginning to turn golden on the top, remove from oven (2-4 minutes, depending on distance from heating unit). Turn slices over and broil again until golden. Remove from oven, then rub the sliced sides of the garlic halves over one surface of each slice of bread. Top with any desired toppings, or use for dipping into dips.
Other recipes you might like: