Italian Bruschetta with Feta and Capers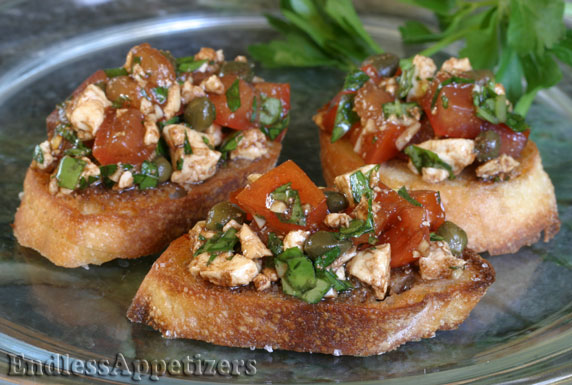 Yield:
6 or more servings, depending on length and width of bread loaf
Tips:
Multi-grain or whole wheat baguettes (or other narrow loaves of bread) will give this bruschetta recipe additional healthy benefits. Watch bread slices during last few minutes of cooking to prevent burning, because they cook quickly toward the end of cooking process.
Suggestion:
Topping can be served on toasted bread slices chilled or warmed under the broiler just until cheese begins to melt.
When it comes to tomato bruschetta recipes, the list is long and plentiful. It's actually quite amazing how many ways diced tomatoes can be prepared, and how many ingredients can be used with the tomatoes to make each bruschetta recipe unique in its own way. Bruschetta can also be very healthy when it's made with a combination of fresh vegetables and herbs.
This Italian bruschetta recipe is colorful and elegant, and has distinct tangy flavor that will leave your guests craving more. The tomato mixture consists of diced tomatoes, crumbled feta, capers, fresh chopped parsley and basil, Kosher or sea salt and freshly ground pepper,
along with a dash of some red pepper flakes for a little "kick." This mixture is tossed with some balsamic vinegar and olive oil, giving these fresh ingredients the perfect final touch of flavor.
Preparing this bruschetta is also easy as can be, and like so many bruschetta recipes, basically consists of three steps. The first step is simply a matter of slicing up a baguette or other long, narrow bread then brushing each slice with some olive oil, then popping the bread slices under a broiler to toast them to a light golden brown. (Note: Italian bread is best for this particular bruschetta recipe because its chewy, pourous texture that truly compliments the flavors of the topping ingredients, though any baguette or other long, narrow loaf of bread will do. Keep in mind that the more narrow the loaf of bread is, the more smaller servings it will produce. Baguettes or other loaves of bread can range from 2-3 inches in diameter.) The second step requires rubbing a garlic clove on the tops of the toasted bread slices. The third and final step is just a matter of chopping and mixing the bruschetta topping ingredients, which takes a few short minutes. No marinating necessary! Once mixed, just scoop some of the tomato mixture onto the slices of bread, and your gorgeous bruschetta appetizers are ready to impress your guests!
Ingredients
olive oil
1 Italian baguette or other narrow Italian or crusty bread
1 garlic clove, cut in half



Topping

1 lb. large round tomatoes, cored, seeded and chopped
2 oz. feta cheese, crumbled
2 tablespoons balsamic vinegar
2 tablespoons olive oil
2 teaspoons small capers, drained
2 tablespoons chopped Italian parsley
2 tablespoons chopped fresh basil
1 large garlic clove, cut in half widthwise
Kosher or coarse salt
freshly ground pepper
dash of red pepper flakes (optional)
Directions
Preheat broiler.
Cut bread loaf into 6 1/2-inch-thick slices (or more, depending on width of loaf). Brush olive oil on top sides of bread slices, then place under broiler (olive oil-side-up) until edges turn golden brown (3-5 minutes). (Tip: Bread slices will cook quickly toward the end of cooking process, so watch closely to avoid burning.) Remove toasted bread from the oven and turn each slice of bread over. Brush the opposite sides of bread slices with additional olive oil and broil again until golden around the edges. Remove from oven.
Topping
Combine topping all Topping ingredients in a small
mixing bowl
. Mix to blend thoroughly.
Rub halves of garlic clove on bread slices, then top with tomato mixture, draining some of the juices if desired. To serve as a cold appetizer topping, serve immediately. To serve as a warm appetizer topping, place topped bread slices under broiler just until cheese starts to melt.
Other recipes you might like: