Artichoke Bruschetta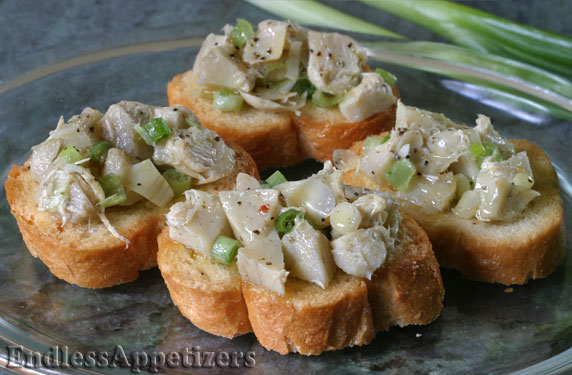 Yield:
8-16 servings, depending on size of bread slices
Cook Time:
5-8 minutes, depending on type of bread used
Tips:
A long, narrow baguette will create smaller individual servings than a ciabatta loaf, though both are delicious.
Suggestion:
Serve as a an light and easy cold party appetizer or as a light snack.
If you're looking for party food ideas that include easy cold appetizers for a crowd, Artichoke Bruschetta will certainly deliver! These tasty artichoke appetizers, although called Artichoke Bruschetta, can also be called Artichoke Crostini,
because the two terms are so similar. The topping for this Artichoke Bruschetta is so simple yet full of fabulous flavor and freshness, and takes just a few minutes to prepare. All you need for this artichoke appetizer is a baguette loaf (or ciabatta or other narrow Italian style bread, if you prefer), a jar of marinated artichoke hearts and some green onions. That's it! Simply slice the baguette into 1/2-inch-thick slices, brush each slice with a little olive oil then bake them until they turn light golden brown around the edges. When it comes to the topping, simply toss some chopped artichoke hearts with some thinly sliced green onions then season with salt and pepper. Spoon a little of this artichoke mixture onto the cooled toast slices, then drizzle a little more of the artichoke marinade over the top of each bruschetta serving for even more flavor, a little moisture and a beautiful sheen!
Ingredients
1 long, narrow baguette (or 1 ciabatta loaf or 3 ciabatta rolls)
Kosher or sea salt
freshly ground black pepper
olive oil (as needed for brushing on bread slices)



Artichoke Topping



1 cup marinated artichokes (tough leaves removed), chopped
2 tablespoons thinly sliced green onions
Directions
Preheat oven to 400° F.
Slice bread (diagonally, if desired) into 1/2-inch-thick slices and place on a baking sheet. Pour a little olive oil (2-4 tablespoons) in a small bowl, then using a
pastry brush
, lightly brush each slice with olive oil, adding more olive oil to the bowl as necessary. Place in oven and bake for 5-8 minutes, or until outer edges of bread slices turn light golden brown (baking time will vary depending on type of bread used). Watch closely to prevent burning, as toast will cook quickly during the last few minutes. Remove from oven and transfer toast slices to a wire rack to cool.
In a medium
mixing bowl
, combine artichokes and green onions. Season to taste with salt and pepper, then spoon onto toast slices (1-2 tablespoons per serving, depending on size of toast slices). Using a small spoon, drizzle a little additional artichoke marinade (from the jar) over the top of each serving. Serve.
Other recipes you might like: