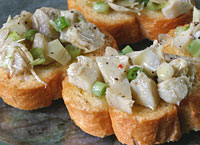 Yield:
8-16 servings, depending on size of bread slices
Cook Time:
5-8 minutes, depending on type of bread used
Tips:
A long, narrow baguette will create smaller individual servings than a ciabatta loaf, though both are delicious.
Suggestion:
Serve as a an light and easy cold party appetizer or as a light snack.
Preheat oven to 400° F.
Slice bread (diagonally, if desired) into 1/2-inch-thick slices and place on a baking sheet. Pour a little olive oil (2-4 tablespoons) in a small bowl, then using a
pastry brush
, lightly brush each slice with olive oil, adding more olive oil to the bowl as
necessary. Place in oven and bake for 5-8 minutes, or until outer edges of bread slices turn light golden brown (baking time will vary depending on type of bread used). Watch closely to prevent burning, as toast will cook quickly during the last few minutes. Remove from oven and transfer toast slices to a wire rack to cool.
In a medium
mixing bowl
, combine artichokes and green onions. Season to taste with salt and pepper, then spoon onto toast slices (1-2 tablespoons per serving, depending on size of toast slices). Using a small spoon, drizzle a little additional artichoke marinade (from the jar) over the top of each serving. Serve.