Mini Pizza Bruschetta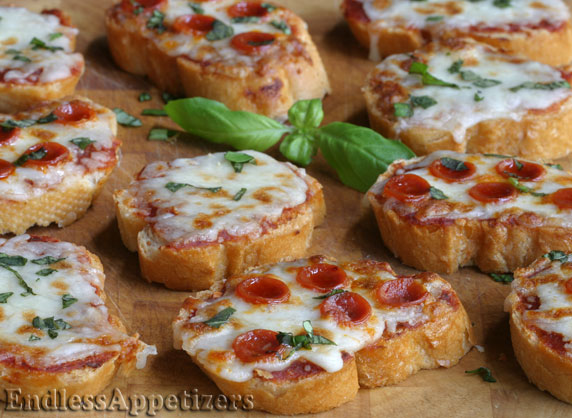 Yield:
About 16 servings, depending on side of toast slices
Tips:
Bruschetta can be made with pepperoni, ham, salami or other meat, or made as vegetarian style as a cheese pizza, simply by omitting the meat.
Suggestion:
Serve as appetizers for parties and events, or as a snack, lunch or fun dinner.
Kids and pizza always seem to go hand in hand, especially when it comes to kids' birthday party food, holiday parties or any event where kids gather. If you're looking for kid-friendly appetizer recipes, these Mini Pizza Bruschetta (also sometimes referred to as crostini) are the perfect easy snack food, because with just one thin baguette (a long, thin loaf of French bread), you can easily prepare enough kid appetizers to feed a small crowd.
Just as with making your own homemade pizza, this easy bruschetta recipe can be adjusted to suit anyone's personal taste, simply by adjusting a few ingredients. Most kids love pepperoni, so placing either some mini pepperoni slices or diced pepperoni on top of the cheese will create the perfect mini pepperoni pizzas. Of course, diced salami, canadian bacon, ham or other meat can be substituted for the pepperoni, if desired - or serving these bruschetta with a variety of toppings is also a great option. On the other hand, most kids also love a simple cheese pizza, so these pizza bruschetta can also be made into vegetarian pizza simply by omitting the pepperoni or other meat. The freshly chopped basil sprinkled over the top once the pizza bruschettas have cooked will add color and additional fresh flavor, though is not necessary if you're serving these mini pizzas for kids. Lastly, while Mini Pizza Bruschetta make perfect kids appetizers, they will be a big hit for all ages, including the young at heart!
Ingredients
1 long, narrow baguette
2/3 cup olive oil (or more as needed)
4 garlic cloves, peeled and sliced in half
1-2 jars pizza sauce or 1-2 cups Italian tomato sauce or pasta sauce
4 cups grated mozzarella cheese
1/2 cup mini slices pepperoni (or diced regular pepperoni slices or other meat)
1 cup finely chopped fresh basil (as a garnish)
Directions
Preheat broiler, arranging top rack about 4-6 inches from heat. (Note: Bread slices may also be grilled, if desired.)
Cut bread into 1/2-inch slices (at a slight diagonal, if desired). Place olive oil in a small bowl for easy access. Using a
pastry brush
, brush each slice of bread lightly with olive oil, adding more oil to the bowl if necessary.
Place toast slices under broiler until edges turn to light golden brown (about 1-2 minutes). Remove toast slices from oven and rub with garlic, then drizzle lightly with additional olive oil. Spoon pizza sauce (or tomato sauce or pasta sauce) onto each slice of toasted bread (1-2 tablespoons, depending on size of bread slices). Sprinkle with enough cheese to cover sauce.
Return to the broiler and broil for 4-5 minutes, or until bruschetta turn golden and cheese becomes bubbly. Garnish with chopped basil (if desired) and serve immediately.
Other recipes you might like: