Pepperoni Cheese Twists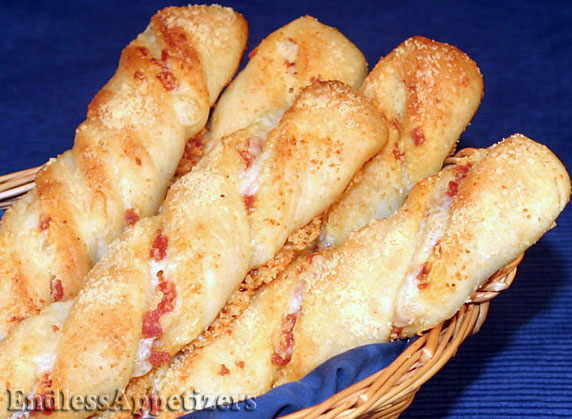 Tips:
Add more butter and Parmesan as needed for topping.
Suggestion:
Can also be served as a bread side with a salad and pasta dish,. soup or stew.
Pepperoni Cheese Twists are garlic-seasoned fluffy breadsticks stuffed with diced pepperoni, mozzarella cheese and Parmesan cheese. Before baking, they are brushed with melted butter and topped with more Parmesan cheese. While baking, the pepperoni and cheeses begin to ooze out of the twisted slits, giving these breadsticks a colorful presentation. The cheese that slips to the
bottom of these breadsticks creates a light and crispy flavor and texture bonus!
This breadstick recipe includes instructions on how to make the homemade dough. Though you can purchase bread dough from grocery stores, I recommend using this recipe to make your own, as it is fun and easy, and you most likely already have the ingredients in your kitchen. Pepperoni Cheese Twists (also referred to as pizza breadsticks or Italian breadsticks) can be served as a bread side dish for a large variety of main dishes, make great bread appetizers, or are perfect for snacks anytime. Salad and breadsticks always go fabulously together, especially when served with pasta or Italian dishes and soups or stews. For added flavor, serve these breadsticks with dipping sauces such as marinara, Italian or Caesar dressing, or olive oil mixed with minced garlic. Store leftover breadsticks in an airtight container in the fridge, and reheat in the microwave for only 10-20 seconds (Be careful not to overheat, as this can cause your breadsticks to become dry and tough).
Ingredients
Bread Dough

1 (1-oz.) package or 1 tablespoon active dry yeast
3/4 cup warm water (110° to 115°)
1/4 cup warm milk (110° to 115°)
1 1/2 tablespoons sugar (1 tablespoon plus 1 1/2 teaspoons)
1 1/2 tablespoons (1 tablespoon plus 1 1/2 teaspoons) butter, softened
1/2 teaspoon salt
2 to 3 cups all-purpose flour (and more if needed)



Filling & Flavoring

1/4 cup melted butter
1 teaspoon garlic powder
1/2 cup diced pepperoni
1/2 cup grated mozzarella cheese
1/2 cup grated Parmesan cheese
Directions
Grease a baking sheet with butter and set aside (You might need to grease an extra baking sheet once all breadsticks have been cut, but you can grease an extra sheet later if necessary). Fifteen minutes before baking, preheat oven to 375° F.
Dough
In an electric mixer bowl (you can also mix by hand with a fork, but electric mixers are quicker and easier), add warm water and yeast. Stir briefly, then allow to dissolve. Once dissolved, add the warm milk, sugar, butter, salt and briefly mix on low to blend. Add 1 cup of flour and mix on low until smooth. Continue to add additional small amounts of flour while mixing, just until dough doesn't stick to the sides of the bowl nor stick to your fingers, yet is soft and pliable.
Lift dough and transfer to a floured work area. Knead until smooth and elastic (about 6-8 minutes). Place in a bowl greased with oil, turning once to grease top of dough. Cover with plastic wrap and allow to rise in a warm place until doubled (about 45 minutes).
Once dough has doubled in size, transfer to floured work area. Roll dough out to a 10 x 12-inch (or longer than 12 inches if needed) to 1/4-inch thick. Brush dough with half of the melted butter, then sprinkle evenly with garlic powder. Evenly sprinkle 1/2 of the long dough rectangle with pepperoni and mozzarella cheese. Sprinkle 1/2 of the Parmesan cheese over top of pepperoni.
Lift the un-topped side of dough and fold over the topped side, so folded dough measures about 5 inches by 12 inches (or longer, if necessary). Seal the edges by pinching dough together. Gently press down dough to remove air pockets. Using a pizza cutter, pastry cutter or sharp knife, cut as many 1-inch pieces as dough will make. One at a time, lift each piece with a scraper/chopper or large spatula and transfer to greased baking sheet 2 inches apart. Gently pull and twist each piece forming a twisted shape (about 2 twists). (Note: If any filling ingredients fall out, you can slip them back into the cracks of the dough, sprinkle on top of the twisted dough or discard.) Using a pastry brush, gently brush remaining melted butter over all twists, then top with remaining Parmesan cheese (use more butter and/or Parmesan if needed).
Allow to rise uncovered in a warm place until puffy (about 30 minutes to 1 hour). Bake in preheated oven for 10-15 minutes, or until light golden brown. Remove twists immediately from sheet and transfer to a cooling rack. Store in air-tight container or plastic bag in refrigerator. Reheat in microwave for 10-20 seconds.
Other recipes you might like: