Pesto Pepperoni Cheese Pinwheels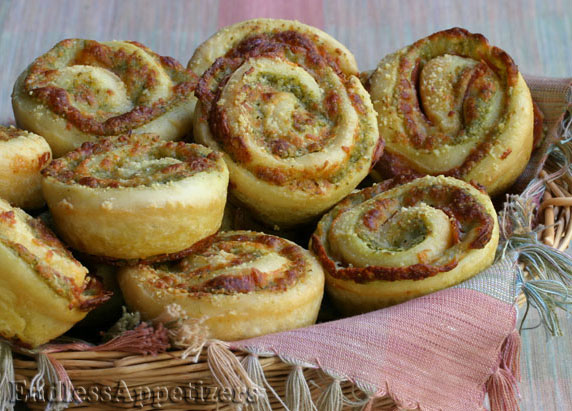 Yield:
About 22 appetizers
Cook Time:
About 15 minutes
Tips:
Frozen packaged pre-made bread dough and/or packaged pre-made pesto can be used if needed to save time (see recipe description below).
Pesto, Pepperoni and Cheese Pinwheels are soft and puffy dough snacks filled with fresh homemade pesto, six different types of Italian-style grated cheese and pepperoni slices. These pinwheel appetizers (also sometimes referred to as roll-ups or pepperoni rolls) are prepared using the same method as making cinnamon rolls (by rolling out dough to a flat shape, arranging the filling on top of the dough,
then rolling up the dough and slicing it into individual servings). After sliced, these pinwheels are placed in muffin tins and baked in the oven for about 15 minutes until puffy and golden.
These pepperoni rolls have an attractive swirl design that captures all the delicious flavors. They make perfect appetizers or snacks, or are great served for lunch or dinner, much like pizza. Turkey pepperoni can be substituted for traditional pepperoni, if desired. If you prefer other deli-style meats to pepperoni, you can use those instead, such as salami, Canadian bacon, turkey or chicken. If you are pressed for time, you can use a 1-lb. package of premade frozen bread dough from the grocery store instead of making your own bread dough. Many grocery stores also carry pre-made pesto (usually in a jar), which will also save you a little time. However, making these ingredients yourself is truly easy (and fun), is always more economical, and always, always tastes better than using prepackaged ingredients! Fresh is best!
Ingredients
Dough

1 (1-oz.) package or 1 tablespoon active dry yeast
3/4 cup warm water (110° to 115°)
1/4 cup warm milk (110° to 115°)
1 1/2 tablespoons sugar (1 tablespoon plus 1 1/2 teaspoons)
1 1/2 tablespoons (1 tablespoon plus 1 1/2 teaspoons) butter, softened
1/2 teaspoon salt
2 to 2 1/2 cups all-purpose flour (or more if needed)


(Note: You may use 1 1-lb. loaf frozen bread dough, thawed instead of making dough)



Pesto

2 cups fresh basil leaves
3 large cloves garlic
1/4 cup pine nuts
1/2 cup Parmesan cheese
1/3 cup olive oil


(Note: You may also use pre-made pesto from a jar.)



Filling

1 8-oz. bag of 5 or 6-cheese Italian blend (grated)
pesto (recipe above)
3 1/2 oz. sliced pepperoni (regular or turkey)



Topping

2 tablespoons melted butter, slightly cooled
grated Parmesan cheese (as needed)
Directions
Dough
In an electric mixer bowl, add warm water and sprinkle yeast over the top. Stir briefly, then allow to dissolve for 3-5 minutes. Once dissolved, add the warm milk, sugar, butter, salt and briefly mix on low (using a dough hook) to blend. If the dough sticks to your fingers and the bowl after mixed, add a little flour (about 1 tablespoon at a time) and mix again until blended. Continue adding small amounts of flour just until the dough no longer sticks to the bowl or your fingers.
Lift dough and transfer to a floured work area. Knead until smooth and elastic (about 3-5 minutes). Form into a ball and place in a bowl greased with oil, rolling dough ball around to coat entire surface with oil (this will help to prevent dough from becoming dry and crackly). Cover with plastic wrap or a light-weight towel and allow to rise in a warm place until doubled (about 45 minutes).
Once dough has doubled in size, prepare Pesto (recipe follows). After you have prepared Pesto, transfer dough to floured work area and follow "Assembly" instructions below.
Pesto
Place basil leaves, garlic cloves, pine nuts and Parmesan cheese into food processor bowl and mix until mixture becomes crumbly. (Note: Stop once during processing to scrape ingredients from sides and bottom of bowl to ensure blades incorporate all ingredients.) While briefly processing again, gradually add olive oil through top opening of processor until thoroughly blended (about 10 seconds). Remove food processor top and stir briefly by hand to make sure oil and mixture are evenly combined.
Assembly
Roll bread dough into 20x10-inch rectangle. Evenly spread dough surface with pesto. Sprinkle entire bag of cheese evenly over top of pesto, then arrange pepperoni evenly over top. Roll up, starting at one of the long sides of the dough. (Note: Getting the roll started may seem a little challenging at first, but it gets easier as you continue to roll.) Trim off uneven dough at both ends of roll, then cut into 3/4-inch slices. Place in greased muffin tins (butter or nonstick spray may be used), newest cut sides facing up. (Tip: If pinwheel slices become tilted in muffin tins, use a table knife to reach down the sides to straighten.) Press pinwheel slices lightly into cup. Cover with a light-weight towel and allow to rise in a warm place for about 45 minutes.
Fifteen minutes before you are ready to bake, preheat oven to 350° F. Just before placing pinwheels in oven, using a soft pastry brush, gently pat tops of each pinwheel with melted butter, then sprinkle lightly with Parmesan cheese. Bake pinwheels 15-20 minutes or until tops turn to a very light golden color.
Store leftover pinwheels in refrigerator in an air-tight container. Chilled pinwheels taste best reheated in the microwave for 15-20 seconds, though they may also be eaten cold or at room temperature.
Other recipes you might like: