Corn Dog Bites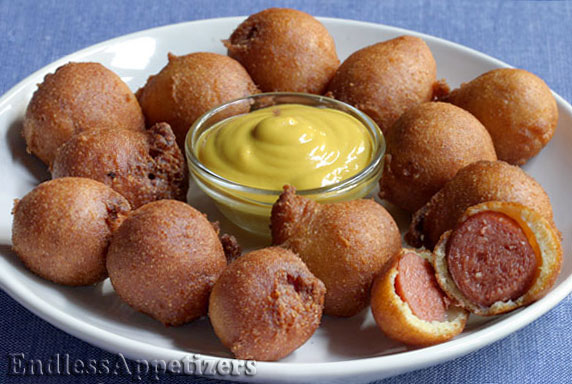 Yield:
About 60 appetizers.
Cook Time:
2 1/2 - 3 1/2 minutes per batch.
Tips:
You can use any size of beef, turkey or chicken weenies with this recipe.
Suggestion:
Serve with mustard and ketchup for dipping.
You can easily turn corn dogs into a fun and tasty appetizer with this Corn Dog Bites
recipe. Corn Dog Bites have that same delicious crispy crust and tender hot and steamy inside that Corn Dogs are famous for, and are even easier to make!
It's as easy as mixing up a simple cornmeal batter, slicing some weenies into bite-size pieces, dipping them into the batter and frying them until golden brown. The above photo shows Corn Dog Bites made with all beef weenies, but you can use any type of weenie you prefer, including turkey, chicken or a mixture of beef and pork. If you want to add a little flavor surprise to your appetizers, you can use cheese-filled weenies. These Corn Dog Bites are perfect served with sides of mustard and/or ketchup, and can be served with or without toothpicks.
Ingredients
1 cup flour
2 tablespoons sugar
1 1/2 teaspoons baking powder
1 teaspoon salt
2/3 cup cornmeal
2 tablespoons butter
1 egg, lightly beaten
3/4 cup milk, plus more for thinning as necessary
1 lb. weenies (beef, turkey or chicken)
oil for deep frying


mustard and/or ketchup (for dipping)
Directions
Note: See recipe description for helpful hints and details.

In a medium mixing bowl, sift together flour, sugar, baking powder and salt. Stir in cornmeal. Cut in butter using a pastry blender or 2 knives until mixture resembles coarse meal. Mix egg and milk together in a small bowl, then stir into cornmeal mixture until blended. (Alternatively, ingredients can be blended in a food processor or with an electric mixer.) Add enough additional milk to thin batter, 1 tablespoon at a time (up to about 4 tablespoons) until you reach desired coating consistency. (Thicker batter will produce more crispy lumps and bumps, while a thinner batter will produce a smoother corn dog.)

Heat oil in a deep fat fryer, saucepan or deep skillet to 375° F.

Completely dry weenies with paper towels, then slice weenies into roughly 3/4-inch-long pieces. Pierce one weenie slice at a time with a fork and dip into cornmeal batter turning to thoroughly coat. Use another fork to push weenie off of first fork into hot oil. Fry until brown, carefully turning occasionally to ensure browning on entire surface (about 2 1/2 to 3 1/2 minutes). Briefly drain on paper towels. Serve with or without toothpicks and sides of mustard and/or ketchup.
Other recipes you might like: