Sausages with Mustard Cream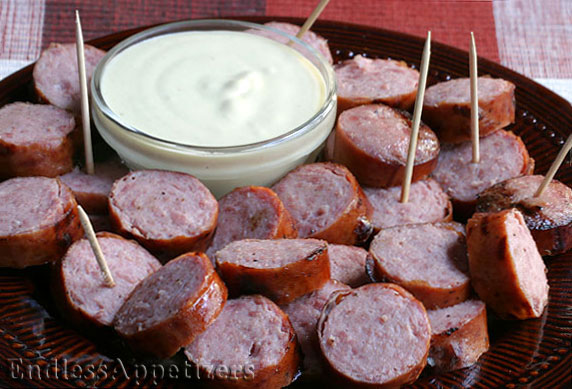 Tips:
Mustard Cream may be made in advance and stored in air-tight container in refrigerator for up to 1 week.
Suggestion:
Crisp-tender broccoli florets (steamed for 2-3 minutes) and other crisp-tender or raw vegetables can also be served alongside sausages for dipping into Mustard Cream.
Sausages with Mustard Cream is a surprisingly delicious appetizer recipe that features grilled smoked or other sausages served with a creamy mustard dipping
sauce made with whipping cream, Dijon mustard, prepared horseradish, white wine vinegar, egg yolks and a hint of sugar. The cream is actually whipped into stiff peaks, then folded into the other ingredients that have been quickly whisked over simmering water in a double boiler or bowl. The whipped cream helps to create a smooth and creamy texture and a very elegant sauce that presents itself beautifully (and tastes just as fabulous!). If you don't have time to fire up the outdoor grill, you can also broil these sausages in your oven. Any type of smoked sausage or kielbasa will work beautifully accompanied by the Mustard Cream sauce, including turkey, chicken, beef or pork (above photo shows this dish made with smoked turkey sausage). Whether grilled or broiled, this sausage appetizer promises to be a huge hit!
Ingredients
2 egg yolks
1 tablespoon sugar
1/4 cup Dijon mustard
2 tablespoons white wine vinegar
1 tablespoon water
1 1/2 tablespoons prepared horseradish
1 tablespoon butter, softened
1/2 cup whipping cream
2 lbs. fully cooked sausages (knockwurst, kielbasa or smoked links)
Directions
In the top of a double boiler over simmering water (alternatively, in a heat-proof bowl placed over a saucepan), heat together eggs yolks, sugar, mustard, vinegar, water, horseradish, and butter. Whisk until mixture thickens (3-5 minutes). Remove top boiler (or bowl) from heat and place in a large bowl of ice water, whisking or stirring constantly until mixture has thoroughly cooled. Remove from ice water and set aside.

Beat whipping cream until it forms stiff peaks. Fold cooled mustard mixture into cream until completely blended and cover and store in refrigerator. (Tip: If made ahead, cover and refrigerate for up to 1 week.)

Arrange sausages on a lightly greased grill 4 to 6 inches above a hot bed of coals. Cook, turning until well-browned on all sides and hot throughout (5-10 minutes). Cut sausages into bite-size pieces. Pour Mustard Cream into a bowl and place on a platter surrounded by sausage pieces. Serve with toothpicks for dipping sausages into Mustard Cream.
Other recipes you might like: