Little Smokies with Dijon Cheese Dip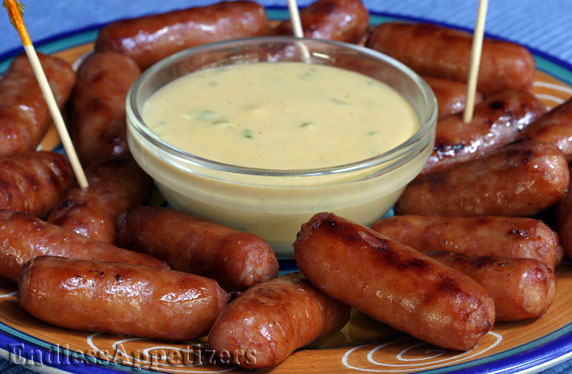 Cook Time:
About 3 minutes
Tips:
Cheese dip will thicken as it cools. To reheat (and make thinner for dipping), simply heat for 15-30 seconds in the microwave (covered), on the stove in a saucepan over medium heat just until heated through, or serve in a fondue pan over a low flame.
Suggestion:
Cheese dip may also be served with fresh cut vegetables, flat breads such as naan, pita bread, etc., and can also be served over baked potatoes instead of sour cream.
Have you ever tried little smokies? They're the little smoked sausages that come in a plastic wrapped package, usually located near hot dog weenies and other types of sausage at the grocery store. Little smokies make great meat appetizers, and can be served in endless ways. Little Smokies (also sometimes referred to as "cocktail sausages," "cocktail weenies or weiners" or even "cocktail links") are made by a few companies, such as Hillshire Farm ("Lit'l Smokies"), Johnsonville ("deli bites"), Eckrich ("Li'l Smokies") and Grogan's ("Little Smokies") (and perhaps even more).
This little smokies recipe is as easy as it gets! The Dijon cheese dip is made with a combination of processed cheese (such as "Velveeta") and cream cheese, along with a generous helping of Dijon mustard, some dark beer (non-alcoholic beer may be used, if desired), chopped green onions (the top green portions) and assorted seasonings. Making the cheese dip is as easy as melting the cheeses in a saucepan on the stove, then stirring in the other
ingredients and heating until smooth and creamy. The little smokies can be heated in any number of ways, such as browning in the skillet, simmering in low-boiling in water, baking in a shallow pan in the oven, or microwaving. Most little smokies packages will include heating directions, but each method is quick and easy. The cheese dip has a wonderful tangy flavor from the Dijon mustard and seasonings, while the dark beer gives it a distinct gourmet touch. (Tip: If kids will also be enjoying this appetizer recipe, non-alcoholic beer can be substituted for regular beer, if desired.)
This Dijon Cheese Dip is fabulous with all sorts of other party food (or any food), such as fresh raw vegetables and flat breads (such as pita bread or naan), tortilla chips and more. If you enjoy fondue, in addition to little smokies, this cheese dip would be fabulous with cubes of French bread or other crusty-style breads (and the fondue pot will do a fabulous job of keeping the cheese dip warm!), as well as vegetables that have been cooked to crisp-tender. This delicious cheese dip can also be used as a cheese sauce over cooked vegetables and baked potatoes! When using over baked potatoes, you can even ad some sprinkles of bacon bits, toasted sesame seeds or more chopped green onion tops. Lastly, a quick tip: The cheese dip will thicken as it cools. To return it to a its dippable consistancy, you can heat it in the microwave (covered) for 15-30 seconds or in a saucepan on the stove over medium-low heat for just a couple minutes. Alternatively, serving the cheese dip in a fondue pot over a low flame will keep the dip warm and dippable until it's gone!
Ingredients
1 lb. processed cheese (such as Velveeta), cut into 1-inch cubes
4 oz. cream cheese, cut into 1-inch cubes
3/4 cup dark beer
1/2 cup Dijon mustard
1/2 teaspoon Worcestershire sauce
1/4 teaspoon garlic powder
pinch of cayenne pepper
1/3 cup finely chopped green onion tops (or chives)
1 lb. little smokies (such as Hillshire Farm Lit'l Smokies or any other brand)
Directions
Heat the little smokies in a skillet on the stove, in the microwave, under a broiler or by simmering in slow boiling in water in a saucepan (follow package instructions - cooking should take only a few minutes). Once little smokies are heated or browned, set aside on a serving tray or plate and cover with aluminum foil to keep warm.

Place cubed cheeses in a heavy saucepan and melt over low heat, stirring frequently until smooth and blended. Gradually stir in beer, then stir in Dijon mustard, Worcestershire sauce, garlic powder, cayenne and green onion tops (or chives). Continue to stir until well-blended, then pour cheese dip into a serving bowl or fondue pot. (See recipe description for tips on keeping cheese dip warm and runny.)
Other recipes you might like: