Meatball Appetizers
What's there not to love about meatballs?! They can be made using a
variety of meats (ground beef and ground pork are most commonly used, though meatballs can also be made with chicken, turkey, lamb, fish or any other meat). From there, all kinds of seasonings and herbs can be added into the meat mixture, giving the meatballs distinctly different flavors and textures. If that's not enough, meatballs can be served with all sorts of dipping sauces and/or coated with wonderful sauces that make them ooze with flavor and become dangerously addicting. Another beautiful thing about meatballs s that they not only serve as perfect little appetizers for any type of party, holiday or event, they make great quick snacks that all ages will love and devour, and in most cases can be served as a main course over rice or pasta.
Meatball Appetizer Recipes ▼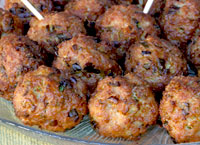 These
Asian Meatballs
are incredibly easy to make and cook in just 2-3 minutes! They're crispy on the outside and tender, hot and steamy on the inside, making them a fun and very tasty appetizer. As with most all meatball recipes, this Asian Meatball recipe can be made as a main course, simply by making the meatballs slightly larger and adding your favorite Asian style sauce and serving them over rice and perhaps with vegetables..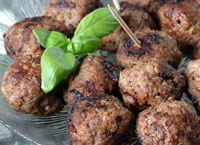 This easy meatball recipe features cocktail meatballs made with a combination of lean ground beef and ground pork, some Holland Rusk toast crumbs soaked in water and whipping cream, along with a some fresh basil leaves (or dried basil), garlic powder, cayenne pepper and salt and pepper.
Basil Meatballs
may also be made with other ground meats, and may be made as a main course with pasta and pasta sauce.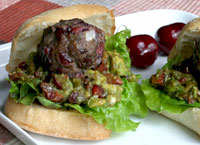 Cherry Meatball Sliders
have a delightfully fresh flavor, thanks to some finely chopped fresh sweet cherries. A little Dijon is added to the meatball mixture to counter the mild sweetness of the cherries, but the touch of natural sweetness is what makes these meatball sliders so fabulous! A delicious Cherry and Avocado Salsa is placed under the meatballs on top of small lettuce leaves, giving these mini sandwiches the perfect touch!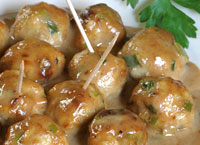 These chicken meatballs are healthy and delicious!
Chicken Satay Meatballs with Peanut Sauce
are made with shredded chicken breast, diced green onions, garlic, soy sauce, fresh bread crumbs and egg, and are baked in the oven. The meatballs are served with a fabulous sauce made with coconut milk, peanut butter, lime juice, brown sugar, fish or soy sauce, rice wine vinegar, and a touch of cayenne.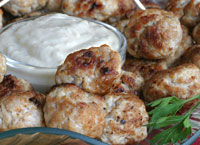 This easy cocktail meatball recipe can be made with ground beef or ground pork (or a combination of both), and includes a snazzy creamy horseradish sauce that will wake up your guests tastebuds!
Cocktail Meatballs with Horseradish Sauce
can be served with the Horseradish Sauce on the side for dipping, or the meatballs can be combined with the sauce in a chafing dish. You can also control the amount of prepared horseradish you use .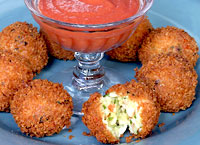 These petite
crab appetizers
are delicious and elegant, but also have an element of fun, due to their size and crispy coating and the fact that you can dip them into a tasty tangy sauce.
Crab Croquettes
are made with cooked crab, diced green onions, seasonings and some egg and panko bread crumbs. This mixture is formed into balls, coated with egg and rolled in more panko crumbs, then fried to a beautiful crispy, golden brown.