Meatball Appetizers
What's there not to love about meatballs?! They can be made using a
variety of meats (ground beef and ground pork are most commonly used, though meatballs can also be made with chicken, turkey, lamb, fish or any other meat). From there, all kinds of seasonings and herbs can be added into the meat mixture, giving the meatballs distinctly different flavors and textures. If that's not enough, meatballs can be served with all sorts of dipping sauces and/or coated with wonderful sauces that make them ooze with flavor and become dangerously addicting. Another beautiful thing about meatballs s that they not only serve as perfect little appetizers for any type of party, holiday or event, they make great quick snacks that all ages will love and devour, and in most cases can be served as a main course over rice or pasta.
Meatball Appetizer Recipes ▼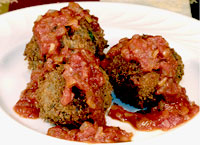 Crispy Meatballs Marinara
is an Italian meatball recipe that features ground beef and bulk Italian sausage, seasoned with all the right stuff, then coated with Panko bread crumbs and fried until golden and crispy. A flavorful marinara sauce made with onions, sliced garlic and seasonings is then drizzled over the top. Photo shows these
meatballs
formed into 2-inch meatballs, though meatballs can be smaller sizes.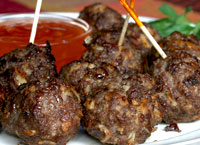 If you enjoy cooking with coconut, you'll want to take a look at these
Indonesian Meatballs
. Indonesian Meatballs is a very easy meatball recipe to make, yet produces meatballs with pleasantly unique flavor. Though the seasonings are few, cumin and corriander give these meatballs that hint of Indonesian flair, while the addition of flake coconut gives these meatballs added flavor and texture. Great alone or with dipping sauces.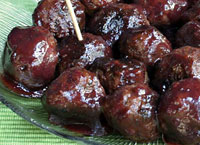 Meatballs with Cherry Sauce recipe
features cocktail-sized meatballs made with lean ground beef and bulk pork sausage combined with fresh parsley, fine bread crumbs, milk, egg and diced onion. Once browned, the
meatballs
are stirred into a divine dark cherry sauce made from pureed canned pitted dark cherries, ground ginger, cloves, cinnamon, freshly squeezed lemon juice and vinegar. Sweet and tangy!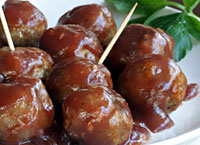 Meatballs with Cranberry Glaze
have a festive and tangy flavor, and are great for any occasion. This recipe calls for ground pork, but you can certainly use other ground meat, such as lean ground beef, ground turkey or ground chicken. These meatballs make a great Thanksgiving appetizer (especially if made with ground turkey), because the sauce is made with cranberry sauce and seasoned with spices found in pumpkin pie.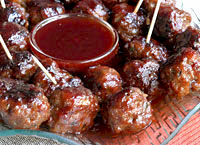 This
Meatballs with Grape Jelly and Chili Sauce recipe
features mini-sized ground beef meatballs seasoned with minced onion, minced garlic, fresh parsley and Worcestershire sauce and tenderized with egg, milk and bread crumbs. The sauce is a simple, quick and easy combination of grape jelly and red chili sauce, which when combined produces a very flavorful sauce enjoyed by both kids and adults. Great for any occasion!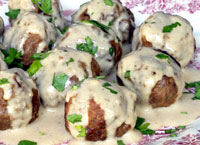 Norwegian Meatballs
(also referred to as
Kjøttboller
in Norwegian cuisine) feature browned meatballs that slow-cook in a beef broth. When the meatballs are ready to serve, heavy cream is combined with the broth, creating a creamy, savory sauce. This sauce is briefly heated until thickened, then poured over the meatballs, which are then topped with chopped fresh parsley. This dish is great served as appetizers or a main course.