Meatballs with Cranberry Glaze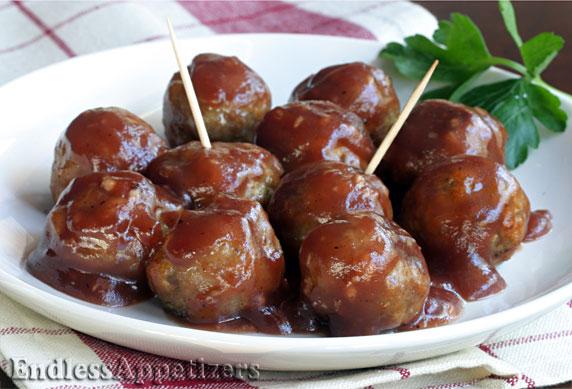 Yield:
About 58 meatballs
Cook Time:
About 15 minutes when baked (frying meatballs in a skillet may take a little longer if fried in separate batches).
Tips:
Lean ground beef, ground turkey or ground chicken may be used instead of ground pork, if desired.
Suggestion:
Delicious served as an appetizer. Great as a Thanksgiving appetizer when made with ground turkey or ground chicken.
Meatballs with Cranberry Glaze have a festive and tangy flavor, and are great for any occasion. This recipe calls for ground pork, but you can certainly use other ground meats, such as lean ground beef, ground turkey or ground chicken. In fact, these
meatballs make a great Thanksgiving appetizer (especially if made with ground turkey), because the sauce is made with cranberry sauce (whole or jellied), and is seasoned with spices found in pumpkin pie, which are both part of the Thanksgiving food theme.
You can use jellied cranberry sauce or whole cranberry sauce with this recipe; though if you prefer to use whole cranberry sauce, you'll need to briefly mix it in the blender to create a smoother consistency before adding it to the other sauce (or glaze) ingredients. This meatball recipe includes the option of a diced serrano chili pepper, though this is optional. The chili pepper adds a little kick, though doesn't make these meatballs overly spicy. Leftover meatballs can be easily reheated in the microwave (times willy vary depending on how many meatballs you heat at a time).
Ingredients
Meatballs

2 lbs ground pork (or lean ground beef, ground turkey or ground chicken)
3/4 cup plain bread crumbs
1/3 cup milk
2 eggs
1 1/2 teaspoons ground allspice or pumpkin pie spice
3/4 teaspoon salt
3/4 teaspoon fennel seeds, lightly crushed
2 cloves garlic, minced
freshly ground black pepper
1/2 – 1 fresh serrano or other chili pepper, seeded and finely diced (optional)



Cranberry Glaze

1 14-oz. can jellied or whole cranberry sauce
3 tablespoons apple cider vinegar
2 tablespoons orange juice
2 tablespoons brown sugar, light or dark
1 tablespoon Dijon mustard
1 tablespoon minced fresh gingerroot
1-2 teaspoons hot sauce (such as Frank's Hot Sauce, sriracha or Tabasco)
1/2 teaspoon salt
freshly ground black pepper
Directions
Meatballs
In a medium
mixing bowl
, combine the pork (or other ground meat), breadcrumbs, milk, eggs, allspice (or pumpkin pie spice), salt, fennel, garlic, a dash of black pepper, and the chopped chili, if using.
Bake Method
Preheat oven to 375ºF. Line a baking sheet with parchment paper. Form meat mixture into 1-inch meatballs and place on baking sheet. Bake meatballs until cooked through and lightly browned (12-15 minutes).
Fry Method
Heat about 2 tablespoons of oil in a large skillet (preferably nonstick), and fry meatballs until cooked through, rolling meatballs around occasionally to brown all sides. You may need to fry meatballs in batches, depending on the size of your skillet.)
Cranberry Glaze
While the meatballs are cooking, prepare Cranberry Glaze. (Note: If using whole cranberry sauce, blend in a blender or food processor first.) Pour cranberry sauce into a large skillet, Dutch oven or large soup pot. Stir in the vinegar, orange juice, brown sugar, mustard, ginger, hot sauce, salt and black pepper. Heat mixture over medium heat, stirring constantly, until well-blended. Add meatballs and heat for 1-2 minutes, stirring to coat. Serve with
toothpicks
on the side.
Other recipes you might like: