Sauerbraten Meatballs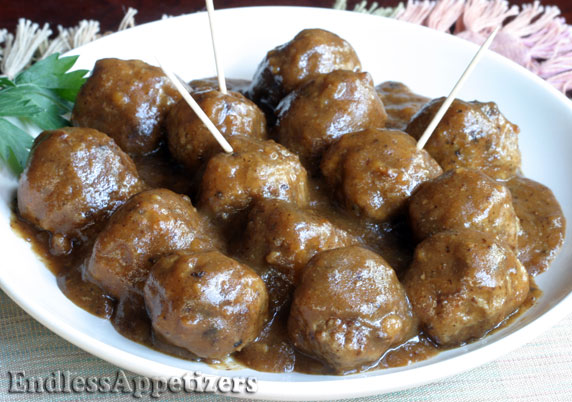 Yield:
About 40 1-inch meatballs
Cook Time:
About 20 minutes
Tips:
Raisins are optional. To easily crush gingersnaps, place cookies in a plastic bag and gently pound with a meat pounder into small crumbs. (Don't worry about crumb size too much, because cookie crumbs will dissolve in the sauce.) Any brand of gingersnaps may be used.
Suggestion:
Serve as an appetizer or a main dish over rice or pasta.
If you're looking for unique cocktail meatball recipes that will bring pizazz and conversation to your party or event, you'll want to consider these tasty and Sauerbraten Meatballs! (Note: Sauerbraten is a German term - "sauer" refers to "sour" or "pickled," while "braten" refers to "roast meat.") This German meatball recipe features tender meatballs with a delicious sauce that has a nice balance of sweet and sour along with some festive spices.
While the sauce for these meatballs may have an appearance somewhat like gravy, the flavor will surprise you! Believe it or not, one of the secret ingredients in this
meatball recipe is gingersnaps, which not only adds unique flavor to the sauce, it makes this meatball recipe a perfect candidate when holiday season comes around and you're tossing around Christmas party ideas! The easy sauce for these meatballs is created on the stovetop in just minutes, and is made with a combination of water, ketchup, apple cider vinegar, brown sugar and seasonings, while some crushed gingersnaps add uniquely delicious flavor as well as act as a thickening agent. Any brand of gingersnap cookies will work well with this recipe, so feel free to choose your favorite brand if you have one. If desired, for more flavor and texture, you can add 1/2 cup of raisins to the sauce as well.
As with most other meatball recipes, these meatballs are not only perfect served as cockail meatballs served with toothpicks (cocktail meatballs are also often referred to as appetizer meatballs), they taste great served over pasta or rice as a main dish! The sauce thickens very nicely, though if it gets a little too thick for pouring, can be thinned out simply by stirring in a little water. To reheat leftovers, it's best to heat the meatballs and sauce over low-medium heat in a saucepan rather than using a microwave. Heating them slowly in a saucepan will thoroughly heat the meatballs through, while allowing you to see if the sauce needs any additional water as it heats up. These Sauerbraten Meatballs have a flavor that all ages will enjoy!
Ingredients
Meatballs

1 1/2 lbs. lean ground beef
1 egg
1 1/2 teaspoons salt
1/4 teaspoon pepper
1/4 cup plain dry bread crumbs
1/2 cup milk
2 tablespoons butter



Sauce

1 cup water
2 tablespoons apple cider vinegar
2 tablespoons ketchup
1 tablespoon brown sugar
8 peppercorns
1 bay leaf, crumbled
1/2 teaspoon salt
6 gingersnaps (cookies), crushed (about 5-6 tablespoons)
1/2 cup raisins (optional)
Directions
Meatballs
In a medium
mixing bowl
, combine ground ground beef, egg, salt, pepper, bread crumbs and milk. Mix until fully blended. Shape mixture into 1 1/4-inch meatballs and place on a baking sheet near cooking area.
Melt butter in a large skillet over medium-high heat, then add meatballs in batches, leaving enough room for meatballs to move around while cooking. Brown meatballs in butter until done (about 7-10 minutes), shaking skillet occasionally to roll meatballs around so they brown evenly. (Tip: If meatballs stick to the skillet, simply use a flat spatula to loosen them.) Once the first batch of meatballs is cooked, transfer to a plate or baking sheet and cover with aluminum foil to keep warm. Repeat process with remaining meatballs until all meatballs are cooked.
Sauce
In a
mixing bowl
, whisk together water, vinegar, ketchup, brown sugar, peppercorns, crumbled bay leaf, salt, crushed gingersnaps and raisins (if using). Pour sauce mixture into skillet and bring to a boil over medium heat, then Immediately reduce heat to low. Return meatballs to skillet, gently tossing to coat meatballs with sauce. Cover and simmer for 5-10 minutes, stirring once or twice until sauce thickens yet is still pourable. (Tip: If sauce appears too thick, stir in a little water until desired consistency is reached. If sauce appears too runny, continue to cook a little longer until it thickens to desired consistency.)
When cooked, transfer meatballs with sauce to a
warming dish
to keep warm. Serve with
toothpicks
.
Other recipes you might like: