Swedish Meatballs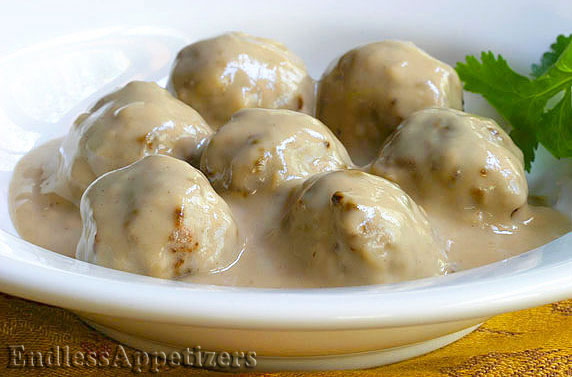 Yield:
About 35-45 meatball appetizers, depending on size of meatballs.
Tips:
Sour cream may be used instead of heavy cream, if desired. Save any leftover beef broth for thinning sauce when reheating.
Suggestion:
Serve with toothpicks on the side for easy taking.
Swedish Meatballs are delicious served as a main course or as an appetizer. As a main course, they taste fabulous alone, swimming
in the creamy Swedish Meatball sauce, and are just as fabulous served over pasta, rice or mashed potatoes. To make these meatballs as appetizers, simply form into 1-inch balls and serve with toothpicks on the side. Each Swedish Meatball is made with a mixture of 50% ground beef, 50% ground pork, sautéed diced onions, egg, fresh bread crumbs softened in milk, along with some nutmeg and allspice. The Swedish Meatball gravy derives much of its full flavor from the remnants in the pan after cooking the meatballs. A roux made with a butter and flour is mixed with the remnants, then blended with some beef broth and heavy cream (sour cream lovers may use sour cream instead of heavy cream, which gives the sauce a delicious edge). This recipe is straightforward and easy, and if not gobbled up at the first serving, will provide you with delicious lunch or dinner leftovers!
Ingredients
Meatballs

2 slices sourdough or white bread, torn into small pieces
1/4 cup milk
3 tablespoons butter, divided
1/2 cup diced onion
3/4 lbs. ground beef
3/4 lbs. ground pork
1 egg
1/4 teaspoon allspice
1/4 teaspoon nutmeg
1 teaspoon salt
1/2 teaspoon black pepper



Sauce

1/4 cup all-purpose flour
2 14.5 oz. cans beef broth
1/4 cup heavy cream (or sour cream)
Directions
Meatballs
Place bread pieces and milk in a small mixing bowl and stir briefly just to combine. Set aside.
Melt 1 tablespoon of the butter in a large skillet, then add onions and sauté on medium-low heat until tender. Set aside.
Place ground beef and ground pork in a large mixing bowl and mix with your hands until combined. Add sautéed onion, milk-soaked bread, egg, allspice, nutmeg, salt and pepper. Mix again with hands until all ingredients are fully combined.
Shape meatballs into 1-inch meatballs. Heat 1 tablespoon of butter in the skillet you used to sauté the onions. Carefully place 1/2 of the meatballs into the skillet and cook on medium-high for about 7-10 minutes, moving skillet frequently or turning meatballs with tongs or spoon to ensure the meatballs cook evenly and retain a fairly round shape.
Transfer cooked meatballs to a large saucepan, being careful to not break meatballs. Cover the saucepan to help keep meatballs warm. Set aside.
Melt the last 1 tablespoon of butter in the skillet, then cook remaining meatballs, repeating same procedure you used for the first batch. After cooked, transfer to saucepan with other meatballs and recover. Leave any remaining liquid in skillet.
Sauce
Decrease heat under skillet to low-medium, then add flour. Whisk flour into the liquids in the skillet until it turns light brown in color (about 1 minute). Gradually add 3 cups of the beef stock, whisking constantly (save any leftover beef stock for thinning sauce later, if necessary). Continue whisking until sauce begins to thicken. Add cream (or sour cream) and continue stirring until combined, then pour sauce into saucepan with meatballs. Heat sauce and meatballs on medium until meatballs are thoroughly heated and sauce has thickened to desired consistency (about 1-3 minutes). Serve with meatballs and sauce only, or over pasta, rice or mashed potatoes.
(Tip: Sauce may be thinned by stirring in small amounts of leftover beef broth. If you don't need to thin sauce, save leftover broth in refrigerator in case you have any leftover meatballs, because chances are you will need to thin the sauce when reheating later.)
Other recipes you might like: