Nut Appetizers
Whether you're looking for some easy party food ideas, cocktail party appetizers, nutritious snacks or healthy snacks for kids, you might want to take a second look at nuts. Nuts are filled with protein, make tasty healthy snacks, and can be transformed into amazing party snacks simply by adding a few ingredients and toasting them in the oven! Nut snacks are always a fun food idea for parties, and are especially popular for Thanksgiving and Christmas parties. This Nuts Appetizers page is dedicated
to nut appetizer recipes and appetizer recipes made with nuts, seeds and other snacking foods (such as the chickpea recipe below) that are similar to nuts, in that they are truly finger foods, meaning they can be served on a plate, platter or in a bowl and be casually taken by the handful. Nut and seed appetizer snacks are always a big hit when served at parties or other social events, because they are the universal snack that's loved by all ages, and there are so many varieties of nuts as well as ways nuts can be prepared. Nuts provide a great source of protein and help to curb hunger, which comes in handy if a meal you've planned won't be served for a while. Nuts also are more of a snack type appetizer, in that they're easy for your guests to casually grab by the handful without the need for a plate or utensils. If you're having a coctail party, nuts are commonly known to keep your guests a little on the thirsty side, as well. This new Nut Appetizers page begins with a few fun and great recipes, though more nut, seed and other snacking type recipes will continue to be added as time moves forward, so please visit again soon!
Nut Appetizer Recipes ▼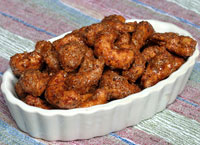 Flavored roasted nuts are always an easy appetizer snack to put together, and a big hit, whether served during the holidays, at parties and social gatherings, or for anytime snacking. These
Chili Roasted Cashews
have a wonderful crispy outer crunch and a delicious mildly spicy, sweet and salty flavor provided by a mixture of chili powder, cayenne pepper, cumin, sugar and coarse salt. Loved by all ages!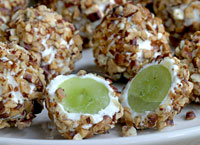 Looking for grape appetizer recipes? If you'd like to try a new and uniquely-tasting appetizer that has great eye appeal and a combination of interesting textures, these
Ginger Pecan Cream Cheese Grapes
are a great place to start! Seedless grapes are coated with cream cheese that has been combined with some finely chopped crystallized ginger, then the grapes are rolled in finely chopped toasted pecans and chilled.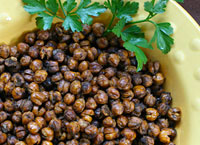 This
Roasted Chickpeas with Garam Masala recipe
is a great way to serve a tasty snack that has a delightful crispy crunch as well as nutritional health benefits! This fun appetizer recipe features canned chickpeas (also known as garbanzo beans), garam masala (an Indian spice), olive oil and salt. The chickpeas are baked with the oil and spice mixture until they turn brown and crispy. Great for parties or for snacking anytime!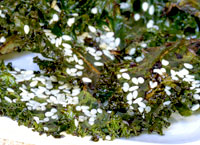 For those who love the flavor of potato chips but are not particularly fond of the calories,
Soy and Sesame Kale Chips
are a great healthy and tasty alternative! This healthy and easy snack recipe features kale that is tossed with olive oil and soy sauce, then baked in the oven until they become crunchy. During the last few minutes of cooking, sesame seeds are sprinkled over the tops, giving this healthy snack added flavor and texture.
◄Previous Page
1
Next Page►