Soy and Sesame Kale Chips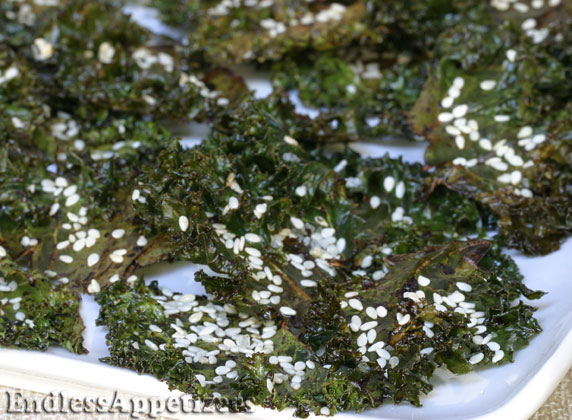 Tips:
Curly kale (shown above) or Lacinato kale (also referred to as Tuscan kale, dinosaur kale, black kale and Italian kale) may be used.
Suggestion:
Serve as a healthy appetizer or for anytime snacking.
For those who love the flavor and crunch of potato chips but are not particularly fond of the calories, Soy and Sesame Kale Chips are
a great healthy and tasty snack alternative! This healthy and easy snack recipe features kale leaves that are tossed with olive oil and soy sauce, then baked in the oven until they become dried and crispy. During the last few minutes of cooking, sesame seeds are sprinkled over the tops, giving this vegetable snack added flavor and texture.
Kale is a green leafy vegetable that is part of the cabbage family, though the leaves are thinner and more flexible, making them perfect for this light and crispy vegetable appetizer. There are two types of kale - curly kale (as shown above), and Lacinato kale (also referred to as Tuscan kale, Italian kale, dinosaur kale and black kale). If you find it challenging to find Lacinato kale in grocery stores, curly kale is readily found and will also produce a tasty result.
Ingredients
7 to 8 oz. Lacinato or curly kale
1 1/2 tablespoons olive oil
1 tablespoon soy sauce
1 tablespoon sesame seeds
Directions
Preheat oven to 300° F.

Rinse kale and thoroughly blot dry with a kitchen towel. Tear leaves from the ribs, then discard the ribs. Tear leaves into roughly 4-inch pieces (kale shrinks as it bakes). Pour oil and soy sauce into a largebowl, then add kale and toss to coat evenly.

Arrange leaves in a single layer on 2 rimmed baking sheets. Place in oven and bake for 13 minutes. Remove from oven and sprinkle evenly over all leaves with sesame seeds. Return to oven and bake until leaves are crisp but not browned (about 5 to 7 minutes more). Remove from oven and allow to cool in baking sheets.

Stored in an airtight container at room temperature for up to 1 week.
Other recipes you might like: