Onion Bhajis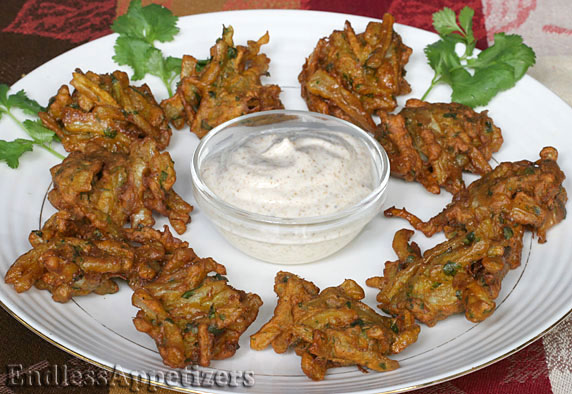 Cook Time:
2-3 minutes per batch
Tips:
Clumps of onion mixture hold together best when onion slices are cut to no longer than about 1 1/2 inches long. To prevent bhajis from coming apart when placed in oil, allow tip of spoon and some of the mixture to slightly immerse into the oil before pushing off spoon.
Onion Bhajis are an Indian version of traditional onion rings, and are served with an easy yogurt dipping sauce seasoned with ground coriander and ground cumin, spices
traditionally used in Indian cooking. These crispy-fried onion bhajis are made with thinly sliced onions that are coated with a batter made with gram flour (also called besan or chickpea flour), an egg and some Indian spices and herbs. The sliced onions are tossed with the batter and quickly fried until golden and crispy.
With the exception of gram flour, the ingredients for this bhaji recipe can be found in most grocery stores. Gram flour can commonly be found in international grocery stores and is made from chick peas, giving the bhajis a uniquely flavored coating that crisps up nicely when fried. One large onion easily makes about 20 bhajis, so if you plan on serving a good-sized crowd, it's easy to duplicate the recipe as many times as needed to produce plenty of bhajis.
Ingredients
Sauce

1 teaspoon ground coriander
1 1/2 teaspoons ground cumin
1 cup plain yogurt
salt and pepper to taste

Bhajis

2 heaping tablespoons gram flour (also called besan or chickpea flour)
1/2 teaspoon tumeric
1/2 teaspoon ground cumin
1 teaspoon garam masala
pinch of cayenne pepper
1 egg
1 large onion, quartered then sliced into 1/8 to 3/16-inch-thick slices
1 tablespoon chopped fresh cilantro
3 tablespoons bread crumbs (only if needed - see recipe)
oil for deep-frying
salt to taste
Directions
Sauce
Roast the coriander and cumin over low heat in a small skillet for 1-2 minutes, stirring constantly, then add to yogurt in a small mixing bowl and whisk together until thoroughly combined. Cover and place in refrigerator until ready to serve bhajis.
Bhajis
In a medium mixing bowl, whisk together gram flour, turmeric and cayenne pepper. Add garam masala and egg and stir with a fork until fully blended and a paste forms. Add sliced onions and toss to thoroughly combine. Season to taste with salt (2-4 shakes should do). Stir in chopped cilantro. At this point, if the mixture seems too runny to hold the onions together when formed into bhajis, add breadcrumbs as needed to thicken (up to 3 tablespoons).
Place a plate with some stacked paper towels near cooking area (for draining bhajis after cooked). In a deep fryer or medium saucepan, heat enough oil to cover bhajis. (Note: If using a deep-fryer, set temperature at 350 F. If using a skillet, heat over medium heat until hot - oil should be just starting to smoke.)
Using 2 spoons (regular or tablespoon size), gently push off teaspoonfuls (about 1 1/4 inches in diameter) of the mixture into the oil one at a time, using one spoon for scooping and the other for forming mixture into small mounds and pushing mounds into the oil. (Tip: Allow spoon and some of the mixture to slightly immerse into the oil before pushing off spoon so the mixture can begin cooking before it is released from the spoon (this will help to prevent bhajis from falling apart in oil). Do not drop into oil, as this might cause mixture to break apart and hot oil to splash.)
Cook as many bhajis as will fit into the deep-fryer or saucepan comfortably to allow some movement and room for turning over. When first sides are cooked to crispy golden, turn over and cook the other sides. Bhajis cook quickly (about 1 minute per side), so watch closely!
Carefully remove bhajis from hot oil with a slotted spoon and place on paper towels to drain. Serve immediately with yogurt sauce.
Other recipes you might like: