Roasted Red Pepper Hummus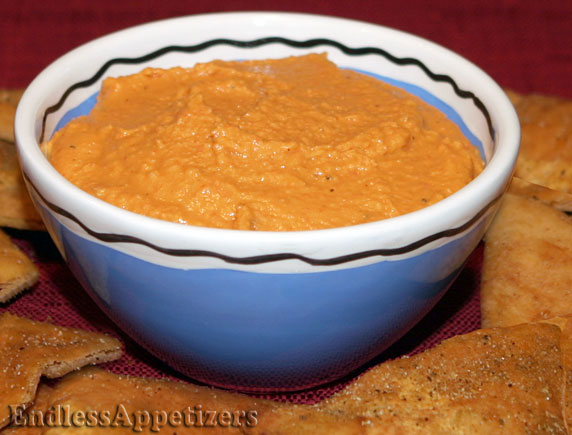 Tips:
May be made in advance and stored in the refrigerator.
Suggestion:
Delicious with crunchy pita chips, crackers, tortilla chips, naan or pita bread and/or fresh vegetables.
This Roasted Red Pepper Hummus recipe (also spelled "humus") is a healthy and delicious dip featuring chick peas (also known as garbanzo beans), roasted red bell peppers, tahini (sesame
paste), fresh lemon juice and assorted herbs and spices. If you prefer hummus without tahini, you can simply omit the tahini, as this recipe calls for a relatively small amount.
This hummus dip is as bright and colorful as it is delicious, and adds a festive element to any party, holiday or other social event. It is also very versatile, in that and can be enjoyed with a large variety of foods, including assorted crackers, bagel chips, tortilla and/or corn chips, pita or naan bread, fresh vegetables and more. This hummus dip can also be used as a spread in sandwiches, such as falafels. Roasted Red Pepper Hummus is also nutritious, containing significant amounts of iron, vitamin C, folate and vitamin B6, as well being a good source for protein and fiber. It of course also serves as a great vegetarian dip.
Ingredients
1 (15 ounce) can garbanzo beans, drained
1 (4 ounce) jar roasted red peppers
3 tablespoons lemon juice
1 1/2 tablespoons tahini
1 clove garlic, minced
1/2 teaspoon ground cumin
1/2 teaspoon cayenne pepper
1/4 teaspoon salt
1 tablespoon chopped fresh parsley
1 tablespoon olive oil
salt to taste
Directions
Place chickpeas, red peppers, lemon juice, tahini, garlic, cumin, cayenne pepper and olive oil in a blender or food processor and puree until the mixture is fairly smooth. Scrape the mixture off the sides of the blender or food processor, add salt to taste. Mix again until fully pureed. Transfer mixture to a serving bowl and serve immediately or refrigerate until ready to serve. Serve cold or at room temperature.
Other recipes you might like: