Garbanzo Balls with Tahini Sauce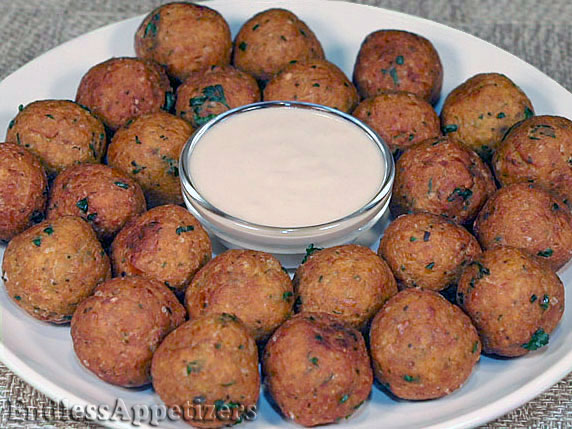 Yield:
About 3 dozen balls
Cook Time:
About 5 minutes
Tips:
Stick each ball with a toothpick for easy taking if desired.
Suggestion:
Garbanzo Balls can also be used with Falafels.
Garbanzo Ball appetizers are made with a mixture of garbanzo beans (also known as "chickpeas"), lemon juice, minced garlic a little cayenne pepper and an assortment of herbs and spices. Garbanzo beans in this form is traditionally a Middle Eastern dish, and can also be found in
Falafels (a sandwich made by stuffing pita pocket bread with garbanzo balls or patties along with tomatoes, lettuce and Tahini sauce (a paste made from ground sesame seeds). In this recipe, the garbanzo balls are served alone as an appetizer, along with Tahini sauce for dipping. The garbanzo beans are ground up in a food processor or blender with a little lemon juice and water, creating a coarse and pasty mixture. The mixture is then transferred to a mixing bowl, and eggs, herbs and spices are added for additional spice and flavor. The garbanzo balls are then formed and fried in hot oil in less than a minute, making them crunchy on the outside and warm and chewy on the inside. This appetizer recipe contains no meat, yet provides an abundance of protein, complex carbohydrates and fiber, making this dish healthy, filling and very satisfying, not to mention fun and tasty! If you prefer, stick each garbanzo ball with a toothpick for easy taking.
Ingredients
Garbanzo Balls

1 15-oz can garbanzo beans, drained
1 tablespoon lemon juice
2 tablespoons water (and more as needed to add moisture)
2 eggs, beaten
2 tablespoons minced fresh parsley
1 teaspoon ground cumin
2 cloves garlic, finely minced
1/4 teaspoon turmeric
1/4 teaspoon basil
1/4 teaspoon marjoram
1/8 teaspoon cayenne
1/2 teaspoon salt
1 cup unflavored (plain) bread crumbs
oil for frying



Tahini Sauce

1 11-oz. can (or 1 1/2 cups Tahini or Tehina
1 teaspoon water (or more as needed to thin consistency)
1 teaspoon lemon juice
Directions
Garbanzo Balls
Pour garbanzo beans in a food processor or blender. Add lemon juice and water and puree until mixture has a coarse paste consistency. Transfer mixture to a large mixing bowl and add all other ingredients except oil. Allow to sit for about 10 minutes or store in refrigerator until ready to cook.
Form chick pea mixture into 1-inch balls and place on a plate near cooking area. In a small saucepan, heat just enough oil to cover chick pea patties (about 1 to 1 1/2 inches deep). Have a plate with a few paper towels ready near cooking area.
With a slotted spoon or other frying utensil, gently lower garbanzo balls (a few at a time) into hot oil. Constantly and gently move balls around in oil to brown all surfaces. Remove as soon as garbanzo balls are golden brown all around (about 20-30 seconds). Remove balls and place on paper towels to drain.
Serve on a platter with Tahini dipping sauce. Pierce each garbanzo ball with a toothpick for easy taking if desired.
Tahini Sauce
In a small mixing bowl, combine ingredients until blended. Add additional water to thin if desired.
Other recipes you might like: