Homemade Hummus with Pita Chips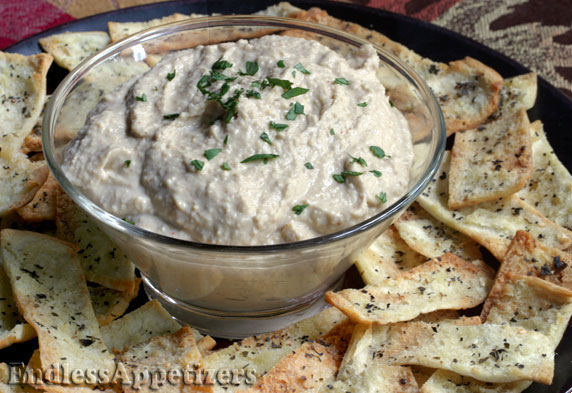 Yield:
About 1 1/2 cups hummus
Suggestion:
This Hummus is also delicious served with naan bread, raw vegetables, crackers and more.
Making your own homemade hummus is as easy as pushing the button on your food processor (okay, so you'll also have to use a can opener). What's more, hummus is as healthy as it is tasty! This Hummus recipe (also sometimes referred to as hummus dip) also comes with an easy Pita Chip recipe made from pita bread, giving the pita chips a healthy homemade quality as well.
The homemade hummus recipe features a delicious combination of garbanzo beans (chickpeas), tahini, garlic, lemon juice, olive oil and a small amount of cayenne pepper (the cayenne pepper is optional, though adds flavor and a little "zing" to the hummus). The hummus (also sometimes referred to as hummus dip) tastes fabulous with the pita chips, which are light and crispy and mildly seasoned with garlic salt and dried herbs. Whether you add 2, 3 or 4 cloves of garlic to your hummus is totally up to your own personal taste. Once you see how easy it is to make your own pita chips using this baked pita chips recipe, you'll no longer need to buy pre-packaged pita chips from the store. One of the advantages to making your own pita chips is that you can use any flavor pita bread (such as white, wheat, whole grain, etc.) and can get a little creative by seasoning them with with your own favorite seasonings. Making your own pita chips and homemade hummus is also less costly than buying them premade, which is always one of the benefits of homemade snacks!
Ingredients
Hummus

1 15 oz. can garbanzo beans (chick peas), liquid from can reserved
1/4 cup of reserved liquid from can of garbanzo beans
1/2 teaspoon salt
1 tablespoon freshly squeezed lemon juice
1 tablespoon tahini
1/4 teaspoon cayenne pepper (optional, though recommended)
2-4 cloves garlic
1 tablespoon olive oil



Pita Chips



6 round pita breads
olive oil
dried oregano or parsley (or both)
garlic salt
Directions
Place all ingredients in a food processor and process on low until fully processed (about 15-30 seconds). Scrape sides of processor bowl, then process again for 3-5 seconds. (Note: If desired, hummus can be thinned out by adding small amounts of reserved garbanzo liquid (about 1 tablespoon at a time), then briefly processing.) Set aside.
Pita Chips
Preheat oven to 400° F.
Pour a small amount of olive oil into a small bowl. Slice each round pita bread through the side to create 2 thinner pita rounds. Using a pastry brush, evenly brush the inside portions of each pita bread half with olive oil (replenishing oil as needed). Slice pita rounds in half, then turn and slice both halves into roughly 1-inch-wide strips (alternatively, you can cut the pita into triangles). Scoop up strips with a thin metal spatula and place on baking sheets, oiled sides up. Lightly sprinkle pita strips with garlic salt and oregano.
Bake in oven for 5-7 minutes, turning baking sheet around once half-way through baking process to help pita chips to bake evenly. Watch closely toward end of baking to prevent burning, because the pita chips cook very quickly toward the end.
Remove from oven as soon as pita chips are partially golden golden brown (some parts of pita chips will not be browned). Transfer with spatula to a cooling rack (seasoned sides up) and allow to sit until completely cooled. Store in an air-tight container or plastic bag to keep fresh. Serve with hummus.
Other recipes you might like: