Fruit Appetizers
When we think of appetizers and party food ideas, fruit appetizers and fruit snacks are not likely to be the first type of party food that comes to mind. Fruit appetizers should not be overlooked, however, because they are usually very easy appetizers to prepare, have their own unique flavor and texture, and will definitely brighten up your party or event! Because
"Fruit Appetizers" is a newly launched appetizer page, we begin with a small yet impressive collection of some tasty fruit appetizer recipes, three of which are olive appetizers (yes, olives are actually considered to be a fruit!). To possibly confuse you even more, while some may consider tomatoes a fruit, they are actually a vegetable. So, if you're looking for appetizer recipes that are made using tomatoes, you can simply browse around any of the pages on this site for appetizer recipes that use tomatoes in various forms. Also included with this list of fruit appetizers is a recipe for
Chocolate Covered Strawberries
, which although might seem more like a dessert, is actually the perfect sweet finger food appetizer to serve at parties, brunches, holidays, or any type of event, because they are only mildly sweet and are not filling. Although this Fruit Appetizer page begins modestly, it is certain to grow with many more delicious fruit appetizer recipes, so be sure to check back again from time to time!
Fruit Appetizer Recipes ▼
This
Caramel Filled Apples recipe
adds that fabulous caramel flavor to apples without the fuss of trying to bite through the caramel to get to the apple! This recipe is also very easy, and is the perfect fruit snack or fruit dessert for parties, kids' parties, holidays, and of course, anytime! These
Caramel Filled Apples
come with an easy homemade caramel recipe that can also be used as caramel dip if you're looking to save a little time.
Fruit appetizer recipes are wonderful served as party appetizers or as mini desserts, and are usually very easy to make, as with these Chocolate Covered Grapes! This
Chocolate Covered Grapes recipe
features large green grapes coated with dark chocolate and red grapes coated with white chocolate. Smaller grapes can be used as well, dipping the entire bunch into chocolate, if desired. A colorful and refreshing treat!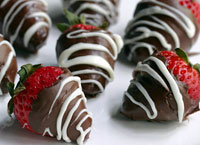 The beauty of
Chocolate Covered Strawberries
is how elegant and delicious they are, and how easy they are to make! You can also coat these Chocolate Covered Strawberries with any variety of toppings (see
recipe
for pictures of examples), such as crumbled peanuts, cornflakes, granola or other cereal, or even crumbled cookies such as Oreos, giving them that Cookies & Cream flavor.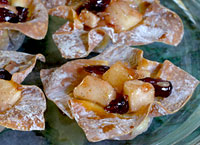 Cranberry Apple Wonton Cups
feature small chopped pieces of apple and dried cranberries baked with a wonderful glaze that adds flavor and a pretty sheen that makes these wonton cups sparkle! These mini apple pies are as colorful as they are tasty, and are appreciated by kids and adults, and everyone in between. They are also very easy to make, and require a short cooking time.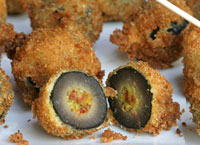 These fun and tasty pesto stuffed olives are easy to make, are enjoyed by all ages, and can sit virtually for hours at room temperature.
Fried Pesto Stuffed Olives
can be made with large black or large green olives, or a combination of both; each offering its own uniquely delicious flavor! These pesto-stuffed olives are the perfect finger food to serve at holiday parties, as Thanksgiving appetizers or any type of social event!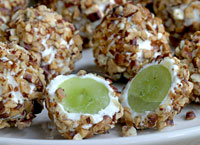 Looking for grape appetizer recipes? If you'd like to try a new and uniquely-tasting appetizer that has great eye appeal and a combination of interesting textures, these
Ginger Pecan Cream Cheese Grapes
are a great place to start! Seedless grapes are coated with cream cheese that has been combined with some finely chopped crystallized ginger, then the grapes are rolled in finely chopped toasted pecans and chilled.