Fried Pesto Stuffed Olives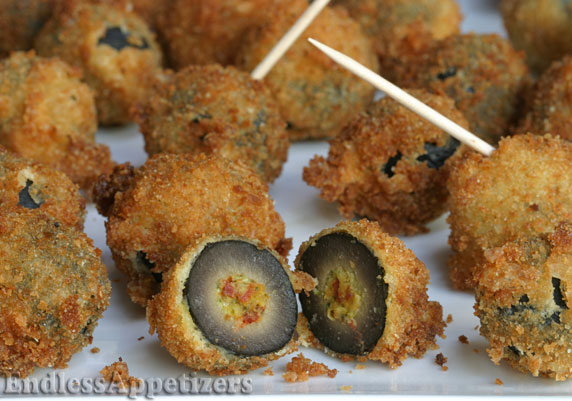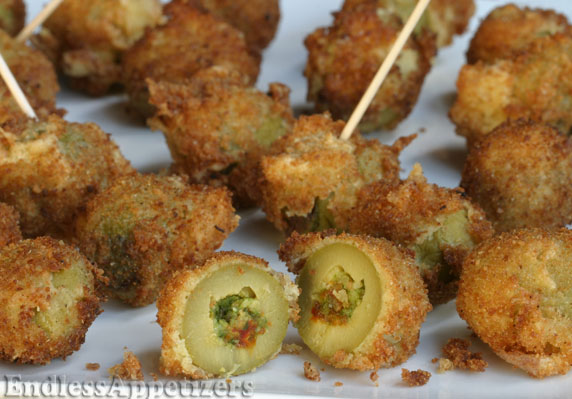 Yield:
20-40 stuffed olive appetizers, depending on size of olives
Cook Time:
3-4 minutes per batch
Tips:
Extra large or jumbo ripe black olives or green olives may be used. Pimento-stuffed green olives may also be used - simply remove the pimiento before stuffing. The larger the olives are, the easier they are to stuff and the less time they will take to prepare.
Suggestion:
Serve as an easy finger food party appetizer.
When it comes to party food, who doesn't love simple finger food appetizers with great taste? Easy appetizer recipes that can be served at room temperature for virtually hours always make party planning much easier and will keep your party guests happy and handsfree!
These fun and tasty pesto stuffed olives are easy to make and are enjoyed by all ages. You can make these stuffed olives with large ripe black olives or large green olives, or a combination of both, each offering its own uniquely delicious flavor! While the black olives are tender and have a naturally mildly sweet flavor that counters nicely with the pesto, the green olives have a more firm texture and a nice sharp and tangy
flavor. Both are delicious, and it might behoove you to serve this appetizer recipe at your event using both types of olives.
The pesto used to stuff these olives is much like traditional pesto recipes, except it includes the addition of some sun-dried tomatoes, as well as some red pepper flakes. (Tip: Packaged dry sun-dried tomatoes or sun-dried tomatoes that come in a jar packed in oil can be used). The sun-dried tomatoes add great flavor as well as color, while the red pepper flakes add a tiny bit of kick! Keep in mind that the larger the olives, the easier they are to stuff because the holes are larger.
If you're looking for fun and simple finger foods that have great taste, great eye appeal and can sit at room temperature for hours, these Pesto Stuffed Fried Olives are one of the best party snacks you'll find. These stuffed olives will disappear quickly, so if you'd like to make a larger batch, you can always use the
Sun-Dried Tomato and Basil Pesto
recipe in place of this pesto recipe (though be sure to add 2-4 cloves of garlic to the pesto, because that recipe doesn't call for garlic), then simply double or triple up on the olives and the olive coating ingredients. These stuffed olives are also perfect served at holiday parties or as Thanksgiving appetizers.
Ingredients
About 20-40 extra large black or green pitted olives, or more as needed to use all pesto (size of olives will determine quantity)



Pesto

2 cloves garlic
2 tablespoons pine nuts
1/2 oz. fresh basil leaves (about 1/2 of a bunch)
1/8 teaspoon salt
1/8 teaspoon red pepper flakes
1 1/2 teaspoons chopped sun-dried tomatoes (dry or oil-packed)
1 1/2 teaspoons freshly squeezed lemon juice
2 tablespoons grated Parmesan cheese
1 tablespoon olive oil (or more as needed)



Coating

3/4 cup all-purpose flour
2 eggs, beaten
3/4 cup plain or seasoned dry bread crumbs
olive oil (for frying)
Directions
Pesto
Combine all pesto ingredients except olive oil in a food processor and process to a coarse paste (about 10-15 seconds), then through the top opening of the food processor, add the olive oil while continuing to process. If pesto seems too dry or thick, add a little more olive oil as needed. (Note: Pesto should be moist but firm enough to remain in olives after stuffed.) Set pesto aside.
Olives
Using a small pastry bag fitted with a small plain tip or using your fingers, stuff pesto into olives and place olives on a plate or tray near cooking area.
Heat about 1 inch of olive oil in a small saucepan over medium heat (to about 275°).
Place flour, eggs and bread crumbs in 3 separate small bowls, positioning the bread crumbs closest to cooking area, the eggs in the middle and the flour farthest from the cooking area. Using separate spoons for each bowl, roll a few olives in flour to coat, then immerse them in the eggs, rolling around to evenly coat. Roll the flour and egg-coated olives in the bread crumbs to evenly coat again, then carefully immerse them into oil with a spoon. (Note: Cook olives in small batches at a time, making sure there is enough room for olives to move around in oil). Allow olives to cook for about 1-3 minutes, or until crispy and golden brown in color. (Note: You may need to reduce or increase the heat from time to time so olives will not cook too quickly or too slowly.) Remove olives with a slotted spoon and place on a plate or tray covered with a few paper towels to drain. (Tip: Each olive coating will vary in shape, adding to the creative visual appeal and crispy texture.)
Other recipes you might like: