Sun-Dried Tomato and Basil Pesto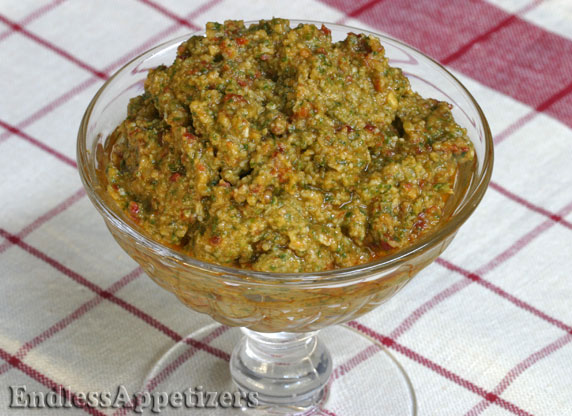 Yield:
1 cup of pesto (or a little more, depending on how many basil leaves are used)
Tips:
Be sure to add the olive oil to the pesto mixture
after
all other ingredients have been processed in
food processor
.
Suggestion:
Delicious with a large variety of foods, such as pesto pizza, chicken with pasta, appetizers and party foods and so much more! See recipe description for ideas.
Pesto is traditionally made with fresh basil leaves, garlic, Parmesan cheese, pine nuts and olive oil. Making pesto is extremely easy, because it simply involves placing all of these ingredients (except the olive oil) into a
food processor
and briefly processing until the mixture turns into a fine crumbly paste. The olive oil is then gradually added to the basil pesto mixture until it becomes smooth and moist. Pesto is an amazing sauce or
condiment that can be used with endless foods, including appetizers, pasta dishes, chicken dishes, seafood, and the list goes on.
This easy pesto recipe is similar to traditional pesto recipes, in that it uses fresh basil leaves, Parmesan cheese, pine nuts and olive oil. However, while there is no garlic used with this pesto recipe, sun-dried tomatoes (oil-packed or dried), freshly squeezed lemon juice, red pepper flakes and a little salt are added, bringing amazing tangy and delicious flavor to this pesto. This Sun-Dried Tomato and Basil Pesto recipe is specifically used with
Pesto Stuffed Crab Balls
or the main course version served as crab cakes, "
Risotto Crab Cakes with Sun-Dried Tomato Pesto
," though you can certainly use this flavorful sun-dried tomato pesto with all sorts of other foods (in place of traditional pesto), such as
pesto pizza
,
chicken with pasta
,
pesto with pasta
or as easy party appetizers served on
baked crostini
or crackers, including
Pesto Cheese Crostini with Cherry Tomatoes
.
Ingredients
1/2 cup pine nuts (or 1 2-oz. bag)
2 oz. fresh basil leaves (1-2 bunches)
1/2 teaspoon salt
1/2 teaspoon red pepper flakes
1/4 cup olive oil (or more as needed for desired consistency)
2 tablespoons chopped sun-dried tomatoes (dry or oil-packed)
2 tablespoons freshly squeezed lemon juice
1/2 cup grated Parmesan cheese
Directions
Combine all ingredients except olive oil in a
food processor
and process to a coarse paste. Through the top opening of the food processor, add the olive oil while continuing to process. Add more olive oil (1 tablespoon at a time) if a thinner consistency is desired.
Other recipes you might like: