Pesto Cheese Crostini with Cherry Tomatoes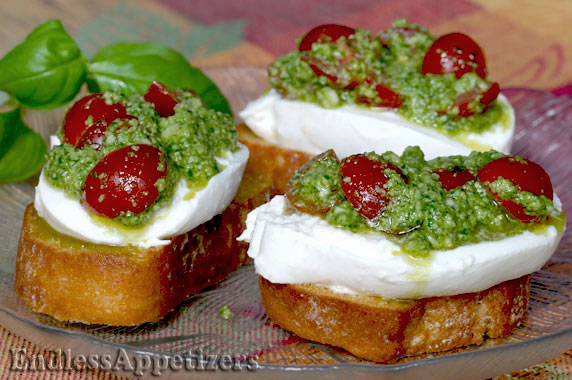 Tips:
Regular mozzarella cheese, plain feta cheese or other mild white cheeses may be used instead of or in addition to Burrata cheese. Firmer cheeses should be cut into 1/4-inch-thick slices.
Suggestion:
Perfect as healthy appetizers for parties, snacks or a vegetarian style lunch.
Looking for new delicious appetizer ideas? This crostini appetizer recipe is a great way to celebrate crostini (an Italian term meaning "little toasts"). This tasty and healthy snack features slices of baguette (long, slender loaves of bread) that have been brushed with olive oil, then briefly baked until lightly crispy. These
baked crostini
are topped with a unique cheese called Burrata cheese, then are topped with a tossed mixture of basil pesto and quartered cherry tomatoes. This appetizer can also be served as a light vegetarian style lunch.
Burrata cheese is an Italian style cheese featuring mozzarella cheese
with a creamy mozzarella filling. The moist and tender creaminess and pleasantly mild flavor of this cheese is a perfect accompaniment to the pesto and tomato topping, which carries fabulous flavor. Burrata cheese can usually be found in the deli section of most grocerty stores, and is often packaged in plastic containers. However, if you are unable to find Burrata cheese, regular mozzarella cheese or even plan feta cheese will work just as well with this appetizer recipe.
This quick and easy appetizer recipe comes with a recipe for basil pesto, which is not only delicious, it adds that quality of freshness to this appetizer. However, if you would like to purchase pre-made basil pesto, you can do that as well. If you're planning to serve this as a party appetizer and you anticipate a fairly good-sized crowd, simply duplicate the recipe as much as needed. Alternatively, to prepare 1 cup of basil pesto (4 times the amount given with this recipe), see
Pesto
. One baguette should produce 30-34 slices, depending on the length of the baguette. To add a little variety, you can serve the crostini topped with a variety of white cheeses.
Ingredients
Basil Pesto

(Note: See Pesto to make 1 cup. Pre-made pesto may be used instead, if desired.)
1/2 cup fresh basil leaves
1 large clove garlic
1 tablespoon pine nuts
2 tablespoons grated Parmesan cheese
1 tablespoon olive oil



Crostini

8 1/2-inch thick slices baguette
olive oil (as needed)
12 cherry tomatoes, quartered
2 tablespoons olive oil
1/4 cup basil pesto (homemade or pre-made)
2 cloves garlic, minced
8 1/2-inch thick slices burrata cheese (slice thinner to make more servings)
Directions
Preheat oven to 350° F.
Basil Pesto
(Note: Alternatively, you can purchase pre-made pesto, or make a larger batch of pesto via the
Pesto
recipe.
Place basil leaves, garlic cloves, pine nuts and Parmesan cheese into food processor bowl and mix until mixture becomes crumbly. (Note: Stop once during processing to scrape ingredients from sides and bottom of bowl to ensure blades incorporate all ingredients.) While briefly processing again, gradually add olive oil through top opening of processor until thoroughly blended (about 10 seconds). Remove food processor top and stir briefly by hand to make sure oil and mixture are evenly combined.
Crostini
Place a little olive oil in a small bowl (about 2 tablespoons), then brush each slice of bread with olive oil on both sides using a
pastry brush
(add more olive oil to the bowl as needed). Place bread slices on a baking sheet and toast in the oven for 15-20 minutes, or until light golden brown.
In a medium bowl, combine tomatoes, olive oil, pesto and garlic. Mix and season to taste with salt. Add additional olive oil as necessary to achieve nice drizzling consistency, or as desired.
Place a slice of burrata (or other mild white cheese) on each slice of bread. Top with the tomato mixture.
Other recipes you might like: