Crab Crostini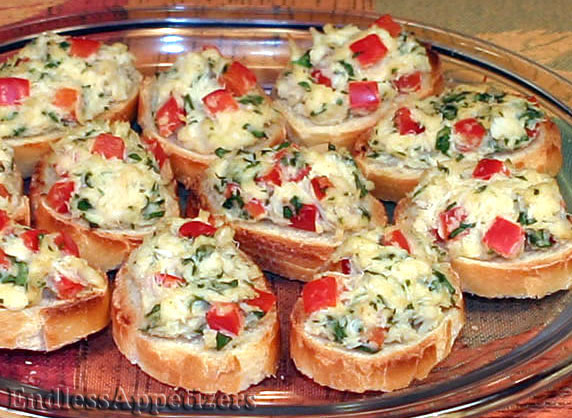 Tips:
Serve hot or cold - see recipe description below.
Suggestion:
Great as an appetizer for parties, holidays or any crowd, or as a snack anytime
Crab Crostini is a tasty and colorful appetizer that will add a touch of elegance to any party, holiday or social gathering. It features miniature slices of long and slender Italian, French or
sourdough bread (often called "baguettes") topped with a light and delicious flaky crab mixture made with red bell pepper, chives, parsley, Dijon, Parmesan cheese, mayonnaise, hot pepper sauce and a little freshly squeezed lime juice. Making this appetizer couldn't be easier! Slice the bread, mix the ingredients, scoop a little of the crab mixture on each slice of bread, then broil for a few minutes and serve!
The photo above shows these crab appetizers broiled. However, if preferred, Crab Crostini can also be served chilled (just as delicious!) on Baked Crostini, simply by making the crab mixture in advance and storing it in the refrigerator until you're ready to serve your guests. Simply follow the easy Baked Crostini recipe and store the small baked toasts in a sealed bag until you're ready to top them with the crab mixture. Whether hot or cold, your crowd will adore these!
Ingredients
2 4.25 oz. cans crabmeat (or 1 8-oz. package lump crabmeat)
1/2 cup diced red bell pepper
3 tablespoons mayonnaise
2 tablespoons chopped fresh parsley
1 tablespoon chopped fresh chives
1 tablespoon freshly squeezed lime juice
1 tablespoon Dijon mustard
2 teaspoons grated Parmesan cheese
4-5 drops hot pepper sauce


long and narrow Italian, French or sourdough bread, cut into 1/4-inch-thick slices (about 16 slices)
Directions
Preheat the broiler. Line a broiler pan with aluminum foil. Remove any unwanted pieces from crabmeat (most canned crabmeat doesn't require this step). In a medium mixing bowl, combine crabmeat, red bell pepper, mayonnaise, parsley, chives, lime juice, Dijon mustard, Parmesan cheese and hot pepper sauce. Gently mix to combine.

Scoop about 1 tablespoon of the crab mixture onto each slice of bread. Place the crostini on the broiler pan and broil about 4 inches from the heat for 5-6 minutes or until lightly browned.
Other recipes you might like: