Bacon Appetizers
Isn't bacon wonderful? When it comes to bacon snack recipes and bacon appetizer recipes, the sky is the limit! There's something about the salty flavor, the light and crispy texture, the way it bubbles up when it cooks and that incredible aroma that fills the house while it's cooking that makes it simply irresistable. The flavor and texture of bacon combines incredibly well with an endless list of foods. In fact, some restaurants exist that dedicate themselves bacon, making sure every item on the menu is in one way or another made with bacon! It is no surprise that when it comes to appetizer ideas for parties, bacon appetizers are so popular and get devoured so quickly when they're served! One well-known way to
serve bacon as a party appetizer is to wrap various foods with strips (or cut strips) of bacon, and perhaps flavoring those bacon-wrapped foods with a sauce or flavoring of some sort, then baking them until the bacon crisps. Bacon wrapped appetizers also usually make perfect bite-size finger food appetizers, and they're almost always incredibly easy to make. Some examples of bacon wrapped appetizers are bacon wrapped asparagus, bacon wrapped pineapple, bacon wrapped hot dogs or cocktail weiners, bacon wrapped cheese, bacon wrapped scallops,
Bacon Wrapped Crackers
,
Bacon Wrapped Water Chestnuts
and bacon wrapped shrimp. No doubt that's only the beginning of a long list of delicious bacon wrapped appetizers! In addition to wrapping various bite-size foods with bacon, bacon can also be crumbled and added to foods like
Deviled Eggs
or
Marinated Strawberries with Cheese and Bacon
, as well as numerous other appetizers. Believe it or not, another popular bacon appetizer or dessert is chocolate covered bacon! Though this bacon page modestly begins with three very tasty bacon appetizers (or appetizers with bacon), bacon lovers can rest assured that as time moves forward, plenty more bacon appetizer recipes will be added to this collection, so be sure to check back often!
Recipes ▼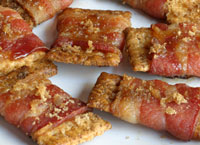 If you love bacon and are looking for easy appetizer recipes, these
Bacon Wrapped Crackers
are a fabulous idea! This appetizer recipe features wafer style crackers that are wrapped in bacon, then baked until the bacon crisps. The bacon wrapped crackers can also be topped with small amounts of brown sugar or honey before baking, giving these irresistble snacks a wonderful flavor combination of sweet and salty!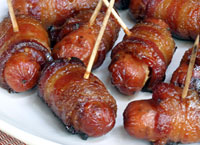 If you've never tried
Bacon-Wrapped Little Smokies
(also known as lit'l smokies, 'lil smokies or cocktail weenies), you're in for a real treat! The little smokies are wrapped in strips of bacon that have been cut into thirds, then secured with toothpicks and sprinkled generously with some brown sugar (you can adjust the sugar to your own preference for sweetness). Simply pop in the oven and bake until the bacon is crisp and serve!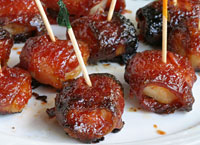 Bacon Wrapped Water Chestnuts
are easy to make, and are loved by all ages! This fun appetizer features whole water chestnuts, each wrapped with 1/3 cuts of bacon slices. The bacon wrapped water chestnuts are baked for 30 minutes, then topped with an easy sweet and sour sauce, then returned to the oven for another 30 minutes or until they crisp. These appetizers are great for parties and are truly delightful!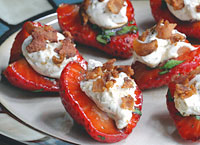 These
marinated strawberries
are truly unique, beginning with tossing halved strawberries with a marinade of balsamic vinegar, chopped fresh basil and fresh parsley. Mascarpone cheese is combined with a small amount of freshly ground pepper, then piped or spooned onto each strawberry half. Crumbled bits of crispy bacon are then sprinkled on top of the cheese, giving these strawberries a delightful crispy crunch.
◄Previous Page
1
Next Page►