Marinated Strawberries with Cheese and Bacon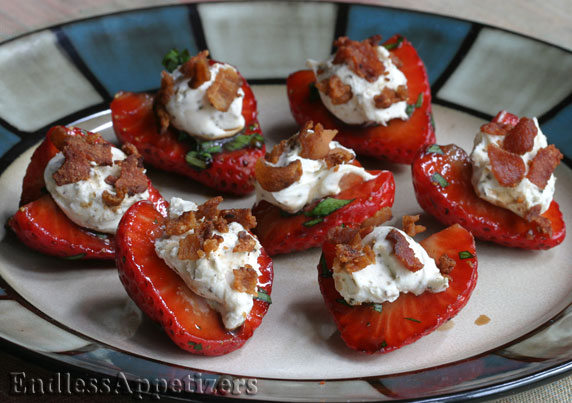 Yield:
30 strawberry appetizers
Cook Time:
7-10 minutes (for cooking bacon)
Tips:
For freshest results, buy strawberries no more than 1 day before preparing, serve promptly after preparing and make only enough as needed for guests. Leftovers may be refrigerated, though some freshness and color might be compromised.
Suggestion:
Serve as an easy cold appetizer for parties, holidays, brunch or as a snack.
Are you adventurous? Strawberries are more versatile than one might think! In addition to being fabulous on their own,
dipped in chocolate
, in smoothies, with yogurt or cereal or even in spinach or other leafy green salads, strawberries can also be served as fruit appetizers, adding color and elegance to parties, holidays or any type of gathering. When it comes to party food ideas, easy cold appetizers (especially strawberries!) are always well worth considering, because they not only are usually easy to
prepare, they lean on the healthy side and have cool, refreshing taste. After all, who can resist fresh strawberries?
These marinated strawberries are truly unique, beginning with tossing halved strawberries with a marinade of balsamic vinegar, chopped fresh basil and fresh parsley. (Balsamic vinegar is sweeter than apple cider vinegar and white vinegar.) The balsamic vinegar and herb marinade gives the strawberries color and sheen, and compliments the strawberries with just a touch of tanginess. Mascarpone cheese (a soft, mild cheese) is combined with a small amount of freshly ground pepper, then piped or spooned onto each strawberry half. Crumbled bits of crispy bacon are then sprinkled on top of the cheese, giving these strawberries a delightful crispy crunch. The key to making this cold appetizer a success is being careful to choose bright red medium-sized strawberries that are ripe, yet not soft. These Marinated Strawberries with Cheese and Bacon will give you the opportunity to present an attractive and elegant cold appetizer that will intrigue and pleasantly surprise your guests!
Ingredients
1/2 lb. bacon
8 oz. mascarpone cheese
2 teaspoons coarsely ground black pepper
15 fresh strawberries
1 teaspoon balsamic vinegar
1 teaspoon chopped fresh basil
1 teaspoon chopped flat-leaf parsley
Directions
Sauté bacon in a skillet over medium heat until deep brown and crispy. Transfer cooked bacon to a plate stacked with a few paper towels to drain. Allow bacon to cool, then crumble or cut into small bits (about 1/4 inch random squares).
Place mascarpone and pepper in a small mixing bowl and gently mix with a rubber spatula or
electric hand mixer
on low speed to incorporate the pepper evenly. Transfer the cheese and pepper mixture to a pastry bag with a plain tip and place in refrigerator. (If you don't have a pastry bag, simply cover the bowl with plastic wrap and refrigerate. Cheese can also be spooned onto the strawberries using a couple small spoons)
Trim leaves off of strawberries and cut in half lengthwise. Keep refrigerated until ready to serve (strawberries should be tossed with marinade just before serving).
Just before serving, combine balsamic vinegar, basil and parsley in a medium mixing bowl. Add strawberries and gently toss with marinade until all strawberries are coated. Arrange strawberries cut-side-up on a tray, then pipe (or spoon) a small amount of the cheese and pepper mixture onto each strawberry. Sprinkle bacon bits over cheese and serve.
Other recipes you might like: