Kid-Friendly Appetizers
Kid Friendly appetizers are not just suited for young folks - they have all the qualities of
appetizers, perhaps just without the "stuff" (or what we call, "ingredients") kids have likely not learned to appreciate yet. Kid-Friendly appetizers and snacks can include anything from
bread appetizers
to
meatballs
to
chicken nuggets
or
chicken strips
, and certainly can include
dipping sauces
! One of the things kids love about appetizers is the fact that they come in petite sizes - almost as though they were designed specifically for kids. Appetizers can be a great way to include some vegetables or other healthy ingredients your kids would otherwise prefer to avoid, such as
Parmesan Broccoli Balls
, while watching them actually enjoying every bite! Kid appetizers are great for social events that include the young as well as the young at heart!
Kid Appetizer Recipes ▼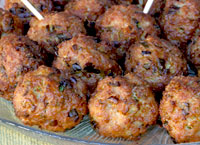 These
Asian Meatballs
are incredibly easy to make and cook in just 2-3 minutes! They're crispy on the outside and tender, hot and steamy on the inside, making them a fun and very tasty appetizer. As with most all meatball recipes, this Asian Meatball recipe can be made as a main course, simply by making the meatballs slightly larger and adding your favorite Asian style sauce and serving them over rice and perhaps with vegetables..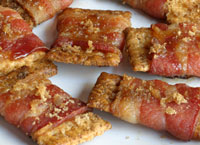 If you love bacon and are looking for easy appetizer recipes, these
Bacon Wrapped Crackers
are a fabulous idea! This appetizer recipe features wafer style crackers that are wrapped in bacon, then baked until the bacon crisps. The bacon wrapped crackers can also be topped with small amounts of brown sugar or honey before baking, giving these irresistble snacks a wonderful flavor combination of sweet and salty!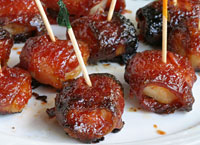 Bacon Wrapped Water Chestnuts
are easy to make, and are loved by all ages! This fun appetizer features whole water chestnuts, each wrapped with 1/3 cuts of bacon slices. The bacon wrapped water chestnuts are baked for 30 minutes, then topped with an easy sweet and sour sauce, then returned to the oven for another 30 minutes or until they crisp. These appetizers are great for parties and are truly delightful!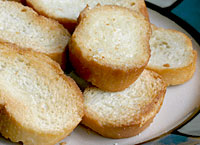 Baked Crostini
(also sometimes referred to as Bruschetta or Canapé when topped with savory foods) are miniature slices of toasted (or baked) bread, typically made from baguettes (long, thin loaves of French bread). Served as an appetizer, they can be used as a base for an endless variety of food toppings or as a cracker-style snack for dips..
Crostini
are wonderful for social events, holidays, parties or anytime snacking.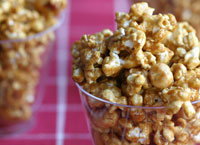 This
Caramel Corn recipe
(also called caramel popcorn) is so easy to make. Once you've tried this homemade caramel corn recipe and realize how delicious it is and how much money you save by making your own, you'll never need to add the prepackaged kind to your grocery cart again. By making homemade caramel popcorn, you'll also have the advantage of eating it warm, right out of the oven, which is incredibly tasty!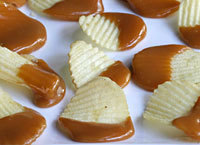 Looking for a super easy fun appetizer or snack for kids and/or caramel and potato chip lovers of all ages? These
Caramel Dipped Potato Chips
are easy to make, taste amazing, and will make plenty! All you need to whip up a batch of these Caramel Dipped Potato Chips is a regular size (about 12 oz.) bag of potato chips with ridges (such as Ruffles), and a few simple ingredients to make your own homemade caramel. Irresistable!