Seafood Appetizers
Seafood appetizers can be a wonderful addition to any occasion. They are light,
colorful and full of flavor, not to mention the added benefits of nutrients and minerals they have to offer. Though this page is in its early stages and clearly is crying out for more seafood appetizer recipes, the recipes below are great beginners for this page. I personally prepared and tested these recipes, and can testify to each recipe's delicious flavor! When it comes to preparing seafood appetizers, the sky's the limit on the type of seafood you can use. Crab and shrimp are always popular for appetizers, but virtually any type of seafood can be used when preparing seafood appetizers for parties and other social events. Clearly this page cries out for more seafood appetizers, so please check back as my quest for new great seafood appetizer recipes continues!
Seafood Appetizer Recipes ▼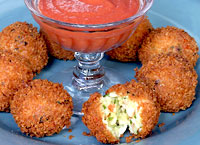 Crab Croquettes with Cocktail Sauce
are delicious and elegant, but also have an element of fun, due to their size and crispy coating and the fact that you can dip them into a tasty tangy sauce. Crab Croquettes are made with cooked crab, diced green onions, seasonings and some egg and panko bread crumbs. This mixture is formed into balls, coated with egg and rolled in more panko crumbs, then fried until crispy and golden brown.
Crab Crostini
is a tasty and colorful appetizer that will add a touch of elegance to any party, holiday or social event. This crab appetizer recipe features mini slices of bread topped with a light and delicious flaky crab mixture made with red bell pepper, chives, parsley, Dijon, Parmesan cheese, mayonnaise, hot pepper sauce and some freshly squeezed lime juice. This recipe couldn't be easier - just slice, top and broil!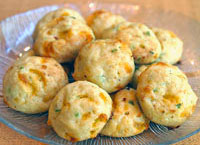 This
Crab Puffs appetizer recipe
produces light and puffy balls that give a touch of elegance and subtle sophisticated flavor to any event. This seafood appetizer is very easy to make and makes plenty! Flour, butter, cheddar cheese, green onions and the right flavorings perfectly compliment the crabmeat. Crab puffs can be made in advance and baked later. These crab puffs plump up into soft, light and fluffy balls with subtle flavor.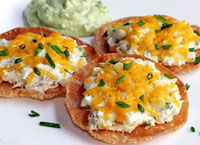 Crispy Crab Wontons with Avocado Creme
feature crispy fried wontons topped with a light and tangy crab salad topped with melted cheddar cheese. This crab wonton recipe also features an Avocado Creme that is served on the side as garnish, made with avocado, lemon juice and a small amount heavy cream. These Crispy Crab Wontons can be served for lunch, brunch or dinner as a light main course, or as appetizers when made small.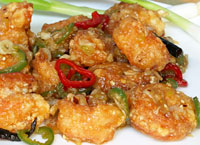 Crispy Sweet and Spicy Shrimp
is a Korean dish (also called Kan-Pung Saewoo), featuring shrimp that have been coated with a cornstarch and baking powder mixture and deep-fried until crispy, then briefly stir-fried in a sweet, spicy and tangy sauce along with dried red chili peppers, sliced garlic, sliced green onions and hot green and red pepper rings. The end result is a light and crispy shrimp dish with just the right amount of spice!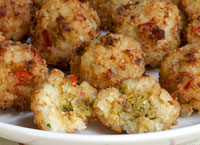 These crab appetizers will pleasantly surprise your guests with a burst of lively flavor when they bite into them!
Pesto Stuffed Crab Balls
are made wtih crab meat, risotto, sautéed diced red bell peppers and minced onion, panko crumbs, Dijon mustard, freshly squeezed lemon juice, mayonnaise and chopped parsley. A delicious sun-dried tomato basil pesto is stuffed into the centers, and the balls are fried until golden and crispy!