Cracker Appetizers
Cracker Appetizers fall into the category of appetizers that are crunchy and can be served by themselves or with dips or a variety of toppings. (Note: If you're looking for cracker toppings (appetizer recipes featuring foods that can be served on top of
crackers), you might want to visit
Crostini Appetizers
or
Dips
.)
Baked Crostini
and
Green Chile Canapés
, for example, are little slices of seasoned and toasted bread that taste great on their own, and are especially perfect for dipping or topping with cheeses, meats, vegetables and avocado.
Pita Chips
are also great for dipping and topping, and can be easily made from pita bread. Some cracker-style appetizers don't need the accompaniment of dips or toppings, because they have enough flavor on their own, such as
Flaky Cheese Triangles
(light and flaky pastry appetizers made with flour, cheddar cheese and spices). Tortilla chips also fall into the cracker category, simply because of their crunchy texture and dipability! This page is in its early stages, but is destined to grow with newly added cracker appetizers, so please check back again!
Cracker Appetizer Recipes ▼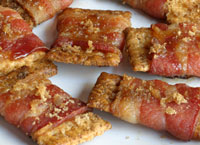 If you love bacon and are looking for easy appetizer recipes, these
Bacon Wrapped Crackers
are a fabulous idea! This appetizer recipe features wafer style crackers that are wrapped in bacon, then baked until the bacon crisps. The bacon wrapped crackers can also be topped with small amounts of brown sugar or honey before baking, giving these irresistble snacks a wonderful flavor combination of sweet and salty!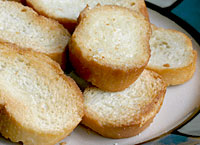 Baked Crostini
(also sometimes referred to as Bruschetta or Canapé when topped with savory foods) are miniature slices of toasted (or baked) bread, typically made from baguettes (long, thin loaves of French bread). Served as an appetizer, they can be used as a base for an endless variety of food toppings or as a cracker-style snack for dips..
Crostini
are wonderful for social events, holidays, parties or anytime snacking.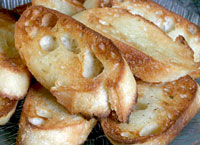 Broiled Crostini
(small toasted slices of bread used for topping with various ingredients to be served as appetizers) produces a different result than
Baked Crostini
, though both can be used for the same purpose. With Broiled Crostini, the slices of bread are cooked more quickly under direct heat, and the crunchiness tends to be contained more on the surface of the bread, while the chewiness is still retained on the inside.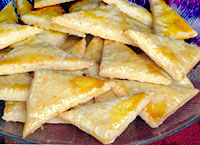 In a very short time and with just a few ingredients, you can create these fun and flavor-packed
cheese pastry appetizers
! These shiny golden petite triangles are made with a combination of flour, a dash of salt and cayenne pepper (giving these snacks the perfect added kick), shredded cheddar cheese and chilled butter. You can cut these little puffy pastries into any shape you like, and can subsitute other cheeses for the cheddar.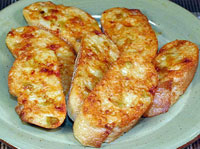 Green Chile Canapés
are mini slices of bread made from long and slender loaves of French, sourdough, ciabatta or other similar crusty bread. These small bread bites (also referred to as "crostini") are coated with a spread made with butter and mayonnaise, Monterey jack or cheddar cheese (or both), diced green chiles. They are then sprinkled with paprika for color and added flavor and broiled to a light golden color.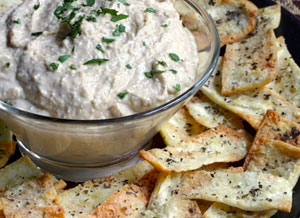 Making your own hummus is as easy as pushing the button on your food processor! This
Homemade Hummus recipe
comes with an easy homemade baked pita chip recipe made from pita bread, giving the pita chips a healthy quality as well. This hummus recipe is made with garbanzo beans (chickpeas), tahini, garlic, lemon juice, olive oil and a small amount of cayenne pepper, and tastes fabulous with the pita chips!