Cracker Appetizers
Cracker Appetizers fall into the category of appetizers that are crunchy and can be served by themselves or with dips or a variety of toppings. (Note: If you're looking for cracker toppings (appetizer recipes featuring foods that can be served on top of
crackers), you might want to visit
Crostini Appetizers
or
Dips
.)
Baked Crostini
and
Green Chile Canapés
, for example, are little slices of seasoned and toasted bread that taste great on their own, and are especially perfect for dipping or topping with cheeses, meats, vegetables and avocado.
Pita Chips
are also great for dipping and topping, and can be easily made from pita bread. Some cracker-style appetizers don't need the accompaniment of dips or toppings, because they have enough flavor on their own, such as
Flaky Cheese Triangles
(light and flaky pastry appetizers made with flour, cheddar cheese and spices). Tortilla chips also fall into the cracker category, simply because of their crunchy texture and dipability! This page is in its early stages, but is destined to grow with newly added cracker appetizers, so please check back again!
Cracker Appetizer Recipes ▼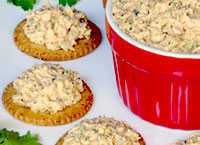 Southwest Chicken Spread
is perfect served as a finger food appetizer or as a fun protein snack anytime. It's also very easy to make, because the ingredients are quickly processed in your
food processor
, which means no manual chopping, slicing or dicing! This tasty chicken appetizer is made with chicken breast, jalapeno peppers, cilantro, freshly squeezed lime juice, cayenne pepper, paprika, sour cream and heavy cream.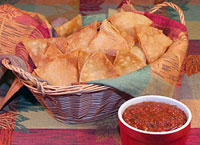 Once you try this
Tortilla Chip and Salsa recipe
, and realize how quick and easy it is to make, premade bottled salsa will never again be able to compare. This salsa is best served with homemade tortilla chips, because of their undeniable freshness and crispness, though packaged chips can also be used. Tortilla chips served with salsa is always a popular snack that keeps people coming back for more!