Southwest Chicken Spread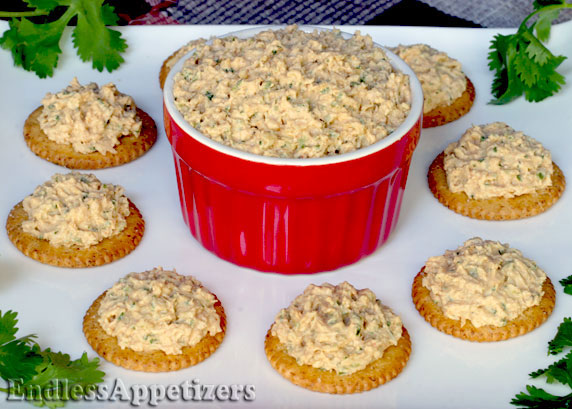 Cook Time:
10-12 minutes if cooking your own chicken; none if using canned cooked chicken breast.
Tips:
If spread is thicker than preferred, simply add a little more heavy cream to the mixture.
Suggestion:
Serve with any type of cracker,
baked crostini
or baked pita chips (to make your own homemade baked pita chips, see
Pita Chips
and follow the recipe for pita chips.
Southwest Chicken Spread is perfect served as a finger food appetizer or as a fun protein snack anytime. It's also very easy to make, because the
ingredients are quickly processed in your
food processor
, which means no manual chopping, slicing or dicing! The above photo shows this tasty chicken appetizer made with canned cooked chicken breast, which makes preparation even easier, though you can also cook your own chicken breast if you like, whether by broiling, roasting or frying. Alternatively, you can purchase cooked chicken breast often found in the deli sections of grocery stores. Southwest Chicken Spread combines chicken with jalapeno peppers, fresh cilantro leaves, freshly squeezed lime juice, cayenne pepper and paprika, along with sour cream and heavy cream, which gives this spread its spreadable quality. To serve as an appetizer, simply scoop chicken spread into a bowl and place on a serving tray, plate or platter surrounded by your choice of crackers,
baked crostini
,
pita chips
, or other similar crunchy style snacks.
Ingredients
2 jalapenos, split and seeds removed
2 garlic cloves
1/4 cup fresh cilantro leaves
1 1/2 tablespoons (1 tablespoon plus 1 1/2 teaspoons) freshly squeezed lime juice
1/4 teaspoon cayenne pepper
1 teaspoon paprika
1 lb. cooked chicken breast or 2 10 3/4-oz. cans cooked chicken breast, drained
3/4 cup sour cream
1/4 cup heavy cream
salt and pepper
crackers, baked crostini and/or pita chips
Directions
In a
food processer
, combine jalapenos, garlic, cilantro, lime juice, cayenne pepper and paprika. Briefly chop for a few seconds (do not puree).
If using canned chicken, add to food processor container. If using cooked chicken breast, cut chicken into 1 to 2-inch pieces and add to the food processor. Add sour cream and pulse briefly just until combined. Add heavy cream and pulse until the spread reaches desired consistency (again, be careful not to puree). Manually stir in salt and pepper to taste.
Spoon spread into a serving dish and serve with your choice of small or large crackers, baked crostini and/or pita chips.
Other recipes you might like: