Egg Appetizers
Egg Appetizers are the perfect protein appetizer or snack and can be served hot or cold, with or without side accompaniments. Depending on the type of recipe, they can be cut into small bite-size servings with toothpicks
inserted into each serving for easy taking, or cut into squares as finger food. Egg appetizers can also be served as a side dish with breakfast or brunch.
Deviled Eggs
are probably the most widely known egg appetizer, and are often enjoyed at holiday get togethers or after Easter when there are plenty of colorful Easter eggs waiting in the fridge to be eaten. A few new deviled egg recipes have been added to the egg recipes collection, including
Blue Cheese Deviled Eggs
,
Feta and Sun-Dried Tomato Deviled Eggs
, and
Parmesan and Artichoke Deviled Eggs
. If you enjoy quiche, then you'll enjoy the flavor and texture of egg squares. In many cases, you can customize your egg appetizers or spice them up simply by substituting some of your favorite ingredients for those found in recipes. Check back again soon for more newly added egg recipes!
Egg Appetizer Recipes ▼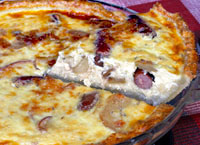 Combining sliced apples, little sausages and swiss cheese may seem like an unlikely marriage of ingredients, but
Apple Sausage Quiche
is proof these flavors marry surprisingly beautifully! Sliced apples are briefly simmered with the little sausages, blending the flavors and lightly browning the sausages while tenderizing the apples. Red or golden delicious, gala or fuji apples can be used with this quiche recipe.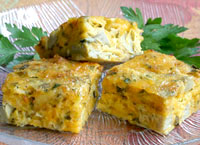 Artichoke Frittatas
are delicious little egg squares made with egg, cheddar cheese, marinated artichoke hearts, green onions, garlic, parsley and crumbled flaky crackers. These
egg snacks
are similar to quiche, though have a firmer and chewier texture, making them perfect as appetizers or as a side or main dish for breakfast or brunch.
Artichoke Frittatas
are delicious served hot from the oven or chilled.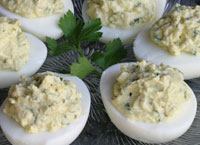 This
Blue Cheese Deviled Eggs recipe
is dedicated to all the blue cheese lovers out there, and is quite elegant. Those who enjoy blue cheese but would prefer a more subtle hint of blue cheese can simply reduce the amount of blue cheese used with this recipe by half. These deviled eggs feature a filling of cooked egg yolks, blue cheese, mayonnaise, whipping cream, whie wine vinegar and seasoning.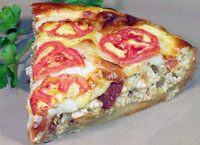 This
Chicken and Bacon Quiche
recipe combines the celebrated flavors of chicken, bacon and Swiss cheese, and mixes them with a seasoned egg mixture that has a wonderful creaminess provided by the addition of sour cream and milk. Chicken & Bacon Quiche is a festive dish that can be served for breakfast, brunch, lunch or dinner, and is even great as a quick cold snack right from the fridge!
Chile Cheese and Olive Squares
can be served as finger food appetizers, as a colorful side dish with breakfast or brunch, or as an anytime snack. They are tasty served warm or cold, and are easier than ever to make!
Chile Cheese and Olive Squares
are made with eggs, cheddar cheese, ripe olives, sautéed onion and garlic, diced green chiles, Tabasco or other hot pepper sauce, bread crumbs and parsley.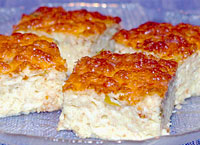 Chile Cheese Bites
are great served as an appetizer, a side dish for breakfast or brunch, or a quick breakfast on the run. They taste great hot from the oven or cold right out of the frige! These little
egg and cheese appetizers
have a similar texture to quiche (without the pastry crust). Like many egg dishes,
Chile Cheese Bites
, can also be served with a side of red or green salsa, sour cream and/or guacamole.