Parmesan and Artichoke Deviled Eggs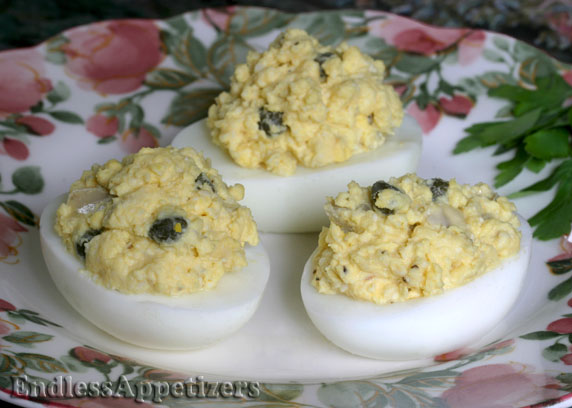 Cook Time:
10-20 minutes for cooking eggs, depending on cooking method used
Tips:
May be made in advance and stored in the refrigerator in an air-tight container until ready to serve.
Suggestion:
Serve as a party appetizer, holiday appetizer, with breakfast or brunch, or as a snack any time.
If you're looking for easy partyfood ideas, holiday party food ideas or healthy snack ideas that appeal to both adults and kids, you really can't go wrong with deviled eggs. Deviled eggs are always a popular choice, perhaps partly because of how incredibly easy they are to make. After all, making deviled eggs is simply a matter of hard boiling eggs, peeling them and slicing the cooked eggs in half, then combining the cooked yolks together with some other ingredients and returning that yolk mixture back to the hallowed-out cooked egg halves. In addition to being such an easy appetizer to make, deviled eggs are also a healthy source of
protein. Deviled eggs always make a great party appetizer, and can also be served for breakfast or with brunch, or as an easy snack for anytime that can be stored in the refrigerator for quite a few days.
Another great thing about deviled eggs is that they can be prepared in various ways, using a variety of different ingredients to create new and unique flavors and textures. If you've ever tried and enjoyed dips made with marinated artichokes and Parmesan cheese, you're going to enjoy these Parmesan Artichoke Deviled Eggs! This deviled egg recipe features cooked egg yolks combined with diced marinated artichoke hearts, grated Parmesan cheese and capers (optional), along with some mayonnaise, whipping cream, wine vinegar and seasoning (a little salt and pepper to taste). The kind of Parmesan cheese that comes finely grated in a jar (such as Kraft Parmesan Cheese) works best with this recipe rather than grating your own from a block of Parmesan, because the jarred type blends so well with the yolks and other ingredients, creating a creamier consistency. If you'd like, you can also top each deviled egg with a sprinkle of extra Parmesan cheese for flair and additional cheesy flavor.
Ingredients
6 hard-boiled eggs
1/4 cup grated Parmesan cheese
2 tablespoons diced marinated artichoke hearts
1 tablespoon capers (optional)
2 tablespoons mayonnaise
2 tablespoons whipping cream
1 tablespoon white wine vinegar
salt and ground black pepper to taste
Directions
Peel shells off hard boiled eggs, then carefully cut in halves lengthwise. Remove yolks and place in a
mixing bowl
. Smash yolks until well-broken up, then add Parmesan cheese, marinated artichoke hearts, capers, mayonnaise, whipping cream and wine vinegar. Mix until well-blended, then add salt and pepper to taste. Spoon equal amounts of yolk mixture into cooked egg white halves. Serve immediately or chill in refrigerator until ready to serve.
Other recipes you might like: