Feta and Sun-Dried Tomato Deviled Eggs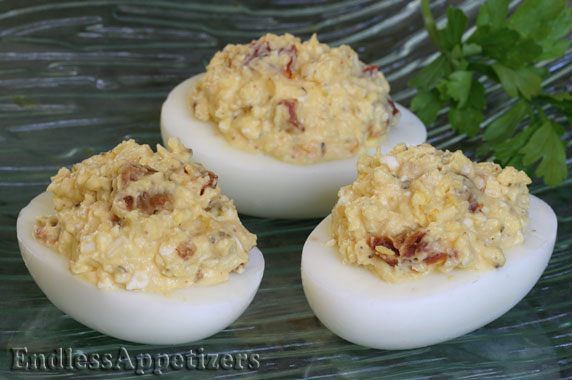 Cook Time:
10-20 minutes for cooking eggs, depending on cooking method used
Tips:
Diced roasted red peppers may be used instead of sun-dried-tomatoes, if desired.
Suggestion:
Serve as a party appetizer, holiday appetizer, with breakfast or brunch, or as a snack any time.
Deviled eggs always make fabulous appetizers or snacks and are the perfect side dish accompaniment to breakfast or brunch. However, as delicious as they are in their popular basic form,
deviled eggs
don't have to be limited to hard boiled eggs filled with a mixture of cooked egg yolks, mayonnaise, mustard and seasonings. Just as omelettes taste fabulous with almost any combination of filler ingredients, deviled eggs (also sometimes referred to as
stuffed eggs) taste great additional ingredients added into the yolk mixture as well! The beauty of eggs is that their mild flavor makes them compatible with a virtually endless list of ingredients!
These Feta and Sun-Dried Tomato Deviled Eggs give deviled eggs a touch of sophistication and elegance as well as added color and texture, while giving them a nice boost of flavor. Feta cheese has a mild flavor and crumbly texture that blends well with the cooked egg yolks and perfectly compiments the diced sun-dried tomatoes. (Tip: If you like roasted red peppers, you can use those instead of the sun-dried tomatoes if you like. Both taste great and go well with feta cheese. Roasted red peppers as well as sun-dried tomatoes (in oil) are usually found in glass jars in the canned vegetable isle of grocery stores. Dried sun-dried tomatoes can also be found in small packages.) Make sure you salt and pepper these egg appetizers to taste before spooning the mixture into the hallowed hard boiled eggs!
Ingredients
6 hard-boiled eggs
1/4 cup crumbled feta cheese
1/4 cup diced sun-dried tomatoes
2 tablespoons mayonnaise
2 tablespoons whipping cream
1/8 teaspoon celery salt
salt and ground black pepper to taste
1 tablespoon white wine vinegar
Directions
Peel shells off hard cooked eggs, then carefully cut in halves lengthwise. Remove yolks and place in a
mixing bowl
. Smash yolks until well-broken up, then add feta cheese, sun-dried-tomatoes, mayonnaise, whipping cream and wine vinegar. Mix until well-blended, then add salt and pepper to taste. (Note: Small lumps and chunks are to be expected because of the texture of the feta cheese). Spoon equal amounts of yolk and feta cheese mixture into cooked egg white halves. Serve immediately or place in an air-tight container and chill in refrigerator until ready to serve.
Other recipes you might like: