Egg Appetizers
Egg Appetizers are the perfect protein appetizer or snack and can be served hot or cold, with or without side accompaniments. Depending on the type of recipe, they can be cut into small bite-size servings with toothpicks
inserted into each serving for easy taking, or cut into squares as finger food. Egg appetizers can also be served as a side dish with breakfast or brunch.
Deviled Eggs
are probably the most widely known egg appetizer, and are often enjoyed at holiday get togethers or after Easter when there are plenty of colorful Easter eggs waiting in the fridge to be eaten. A few new deviled egg recipes have been added to the egg recipes collection, including
Blue Cheese Deviled Eggs
,
Feta and Sun-Dried Tomato Deviled Eggs
, and
Parmesan and Artichoke Deviled Eggs
. If you enjoy quiche, then you'll enjoy the flavor and texture of egg squares. In many cases, you can customize your egg appetizers or spice them up simply by substituting some of your favorite ingredients for those found in recipes. Check back again soon for more newly added egg recipes!
Egg Appetizer Recipes ▼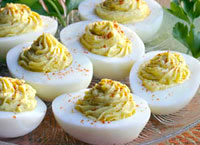 Deviled Eggs
are an all-time favorite appetizer or snack that can be served any time of day, all year-round. It's also one of the easiest and most economical appetizers you will ever make. The only ingredients needed are eggs, mayonnaise, mustard, a little salt and pepper and some paprika or cayenne pepper to add a little sprinkle of color and flavor. These delicious protein-filled
cold appetizers
are soft, creamy and delicious!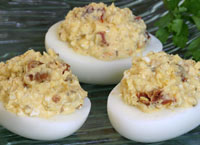 These
Feta and Sun-Dried Tomato Deviled Eggs
give deviled eggs a touch of sophistication and elegance as well as added color and texture, while giving them a nice boost of flavor. Feta cheese has a mild flavor and crumbly texture that blends nicely with the cooked egg yolks and perfectly compiments the diced sun-dried tomatoes. If prefered, diced roasted red peppers can be used instead of the sun-dried tomatoes.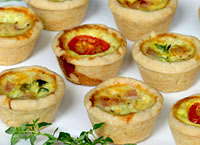 These tasty little quiches are perfect for parties, brunch, breakfast and anytime snacking!
Mini Quiches
feature a mixture of egg, shredded Monterey jack cheese, Parmesan cheese, diced sandwich ham (optional), chopped green onions and a little milk baked in an easy homemade flaky pie crust flavored with Parmesan cheese. Sliced cherry tomatoes and fresh herbs can be placed on top for added color and flavor.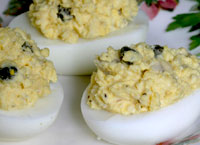 If you've tried and enjoyed dips or other foods made with artichokes and Parmesan cheese, you're going to enjoy these
Parmesan and Artichoke Deviled Eggs
! This deviled egg recipe features halved hard boiled eggs filled with cooked egg yolks combined with diced marinated artichoke hearts, grated Parmesan and capers (optional), along with some mayonnaise, whipping cream, wine vinegar and seasoning.