Mini Quiches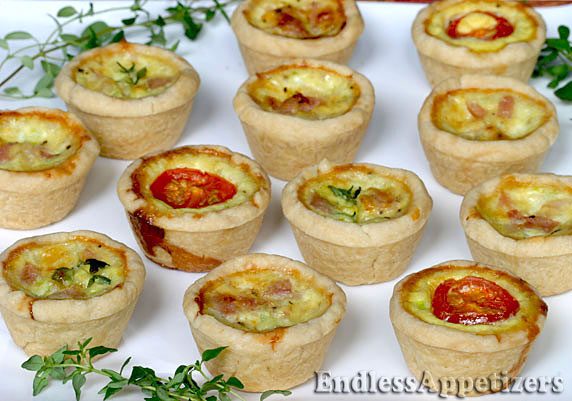 Tips:
Typical measurements of each muffin cup in mini muffin baking pans are about 1 3/4 inches across the tops, and about 1 1/4 inches across the bottoms. See recipe description for tips on how to make these mini quiches with other combinations of ingredients.
Suggestion:
Perfect for parties, holidays, breakfast, brunch and anytime snacking.
This easy mini quiche recipe adds fun, color and festive flavor to any party, holiday or event! They're also perfect for brunch and breakfast, or anytime snacking. This mini quiche recipe begins with a light and flaky homemade pie crust that's flavored with Parmesan cheese. It takes literally seconds to whip up the pie crust in your food processor, and just a few minutes to prepare. Small balls of pie crust dough are placed into mini muffin cups, then are easily pressed into the muffin cups to create bowl-like shapes, as shown in the above photo. After baking the pie crust for about 10 minutes, the quiche mixture (made up of egg, shredded Monterey jack cheese,
milk, diced green onions and diced ham or bacon is spooned into the litte pie crusts. Sliced cherry tomatoes and/or fresh thyme leaves or other herbs can be placed on top for added color and flavor as well as eye appeal. The mini quiches are baked again for just 20 minutes, until the quiche mixture becomes puffy and set, and the pie crust turns light golden brown. The ham or bacon are optional, though add nice flavor and color. If using ham, 2 slices of thinly-sliced deli-style luncheon meat (diced) works perfectly with these mini quiches because of their small size. You can also use diced turkey or other thinly sliced deli meat if you already have some in your fridge (though ham and bacon add that nice, salty flavor). In fact, if you're feeling a little creative, you can make these quiches in a number of ways. For instance, you might want to combine pepper jack cheese and diced pickled japapenos or Monterey jack cheese with diced marinated artichoke hearts - or try out your own combination of ingredients. Swiss or Gruyére cheese may also be used instead of Monterey jack. These mini quiches taste fabulous fresh and hot from the oven, but are just as tasty at room temperature, or even chilled!
Ingredients
Pastry

2 cup all-purpose flour
12 tablespoons (1 1/2 sticks) chilled butter, cut into 1-inch-thick pieces
4-5 tablespoons ice water (as needed)
2 tablespoons grated Parmesan cheese
1/2 teaspoon salt



Quiche Filling

1 egg
1/3 cup milk
1/8 teaspoon ground black pepper
dash of salt to taste
1/3 cup finely grated Monterey jack cheese
1 tablespoon diced green onion
2 slices thinly-sliced deli-style ham, diced or 2 strips cooked bacon, crumbled
5-6 cherry tomatoes, thinly sliced (optional)
fresh thyme leaves, snipped into small pieces (optional)
Directions
Pastry
Preheat oven to 425° F. Lightly spray 24 mini muffin cups with cooking spray. (Note: Typical measurements of each muffin cup in mini muffin baking pans are about 1 3/4 inches across the tops, and about 1 1/4 inches across the bottoms.) Set aside.
Add flour, Parmesan cheese and salt to a food processor. (Note: Alternatively, you can mix by hand, though a food processor is a much quicker and easier method.) Process for a few seconds just until mixed. Add butter slices and process again until mixture forms coarse crumbs. Through the top of the small opening of processor, slowly add 4 tablespoons of ice water while processing, just until blended. Mixture should be crumbly, but able to be squeezed into a crumbly ball. If mixture seems too dry, add up to 1 tablespoon more of ice water while processing again, just until mixture reaches right moisture level. Gather into a ball, then knead gently just until pastry holds together.
Divide pastry in to 24 equal portions, then roll each portion into a ball. Place balls into muffin cups, then press down and up on the sides to create bowls. (Note: Using the end of a large wooden spoon or other kitchen utensil handle might be helpful.) Bake in 425° oven for 8-10 minutes or just until pastry begins to brown. Remove from oven and set aside. Reduce oven temperature to 350° F.
Quiche Filling
In a small mixing bowl, whisk together egg, milk, salt and pepper. Stir in Monterey jack cheese, Parmesan cheese, diced green onion and ham (or bacon). Spoon about 1 teaspoon of filling into each pastry cup, using any left over mixture to even out the quiches (do not over-fill). If desired, top each quiche with a thin cherry tomato slice, trimmed thyme leaves or other fresh herbs.
Bake quiches for 20 minutes or until filling appears puffed and set. Cool in muffin cups on a wire rack for about 5 minutes. Remove from cups and serve warm. (Note: If you'd like to serve them quickly, inserting a table knife down the side of each quiche will help you lift them out of the muffin cups without touching the muffin pan.
Other recipes you might like: