Chile Cheese Bites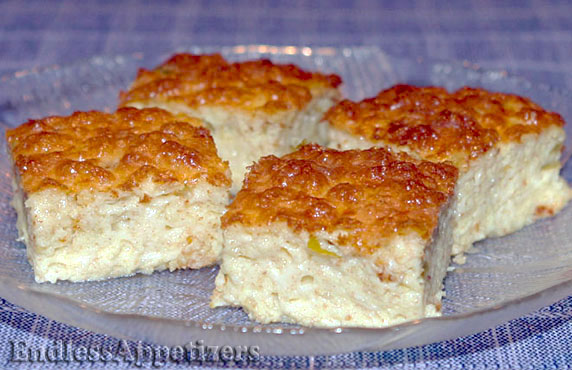 Suggestion:
Great as an appetizer or with brunch or breakfast.
Chile Cheese Bites are great served as an appetizer, a side dish for breakfast or brunch or a quick
morning meal for those who tend to have breakfast on the run. They also make a great quick protein snack and are even tasty cold, right out of the refrigerator! These little egg and cheese appetizers are made with eggs, cottage cheese, Monterey Jack cheese and diced mild green chiles, and have a similar texture to quiche (without the pastry crust). The photo above shows Chile Cheese Bites cut into 2-inch squares, but they can also be cut into 1-inch squares and poked with toothpicks to create a one-bite appetizer.
For added flavor and perhaps a little spice, Chili Cheese Bites, just like many egg dishes, can also be served with a side of salsa (green or red) or other sauce for dipping (1-inch squares would work best if you plan on serving with a dipping sauce).
Ingredients
1/2 cup butter
10 eggs
1/2 cup flour
1 teaspoon baking powder
dash salt
1 7-oz. can diced green chiles
2 cups cottage cheese
1 pound Monterey Jack cheese, shredded
Directions
Preheat oven to 400° F.

Melt butter in a small microwave-safe bowl. Set aside.

In a large mixing bowl, lightly beat eggs with a whisk. Add to eggs the flour, baking powder and salt and whisk until well blended. Add to egg mixture the melted butter, green chiles, cottage cheese and Jack cheese and mix with a fork just until blended.

Pour mixture into a greased 9 x 13-inch casserole dish and bake for 15 minutes. Reduce oven temperature to 350° F and bake for another 35 to 40 minutes or until lightly browned on top and toothpick or pointed knife stuck into center comes out clean.

Cut into small squares and serve hot.
Other recipes you might like: