Chile Cheese Bites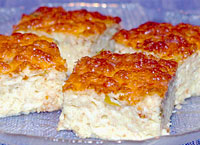 Suggestion:
Great as an appetizer or with brunch or breakfast.
Ingredients
1/2 cup butter
10 eggs
1/2 cup flour
1 teaspoon baking powder
dash salt
1 7-oz. can diced green chiles
2 cups cottage cheese
1 pound Monterey Jack cheese, shredded
Directions
Preheat oven to 400° F.


Melt butter in a small microwave-safe bowl. Set aside.

In a large mixing bowl, lightly beat eggs with a whisk. Add to eggs the flour, baking powder and salt and whisk until well blended. Add to egg mixture the melted butter, green chiles, cottage cheese and Jack cheese and mix with a fork just until blended.

Pour mixture into a greased 9 x 13-inch casserole dish and bake for 15 minutes. Reduce oven heat to 350° F and bake for another 35 to 40 minutes or until lightly browned on top and toothpick or pointed knife stuck into center comes out clean.

Cut into small squares and serve hot.