Flaky Cheese Triangles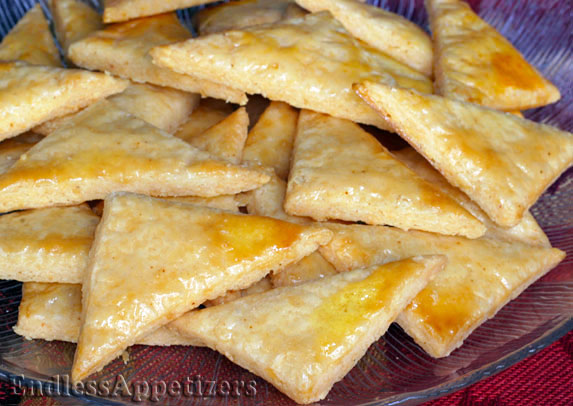 Tips:
Chilling the dough prior to baking is an important last step to creating a flaky pastry.
In a very short time and with just a few ingredients, you can create these fun and
flavor-packed cheese pastry appetizers! These shiny golden petite triangles are made with a combination of flour, a dash of salt and cayenne pepper (giving these snacks the perfect added kick), shredded cheddar cheese and chilled butter. I recommend using a sharp cheddar for the most flavor, though any cheddar will certainly do. Making these cheese puff appetizers is simply a matter of mixing the ingredients, kneading into a dough consistency, then rolling out and cutting into little 2-inch squares which are divided into 2 triangles. You can cut these little pastry puffs into any shape you like. These little treats are light and flaky with distinct cheese flavor, and will melt in your mouth!
Ingredients
3/4 cup all-purpose flour
pinch salt
1/8 teaspoon cayenne pepper
1/3 cup butter
1 cup grated cheddar cheese (about 4 oz.)
1 egg, beaten
Directions
In a medium mixing bowl, whisk together flour, salt and cayenne pepper. Cut the butter into smaller cubes, then add to the flour mixture and cut using a pastry blender or fork until mixture resembles coarse meal. Add shredded cheese and knead mixture with your hands to blend and form into a dough. Cover bowl and chill dough in refrigerator for at least 1/2 hour.

Briefly knead dough again to make is soft enough to roll out. Lightly flour a work surface, then roll dough out to about a 1/8-inch thickness. Cut dough into 2-inch squares, then cut each square diagonally into 2 triangles, gathering any remaining scraps and re-rolling until all dough is used up. Lift triangles with a thin metal spatula or other tool and gently place on greased baking sheets about 1-inch apart. Brush triangles with beaten egg using a soft-bristled pastry brush, then place in refrigerator for another 10 minutes.

Preheat oven to 375 F.

Transfer baking sheets from refrigerator to oven and bake for about 8 to 10 minutes or until pastries have turned a light golden color. Cool slightly before serving.
Other recipes you might like: