Crab Crostini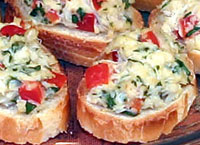 Tips:
Serve hot or cold - see recipe description below.
Suggestion:
Great as an appetizer for parties, holidays or any crowd, or as a snack anytime
Ingredients
2 4.25 oz. cans crabmeat (or 1 8-oz. package lump crabmeat)
1/2 cup diced red bell pepper
3 tablespoons mayonnaise
2 tablespoons chopped fresh parsley
1 tablespoon chopped fresh chives
1 tablespoon freshly squeezed lime juice
1 tablespoon Dijon mustard
2 teaspoons grated Parmesan cheese
4-5 drops hot pepper sauce


long and narrow Italian, French or sourdough bread, cut into 1/4-inch-thick slices (about 16 slices)
Directions
Preheat the broiler. Line a broiler pan with aluminum foil. Remove any unwanted pieces from crabmeat (most canned crabmeat doesn't require this step). In a medium mixing bowl, combine crabmeat, red bell pepper, mayonnaise, parsley, chives, lime juice, Dijon mustard, Parmesan cheese and hot pepper sauce. Gently mix to combine.

Scoop about 1 tablespoon of the crab mixture onto each slice of bread. Place the crostini on the broiler pan and broil about 4 inches from the heat for 5-6 minutes or until lightly browned.