Pesto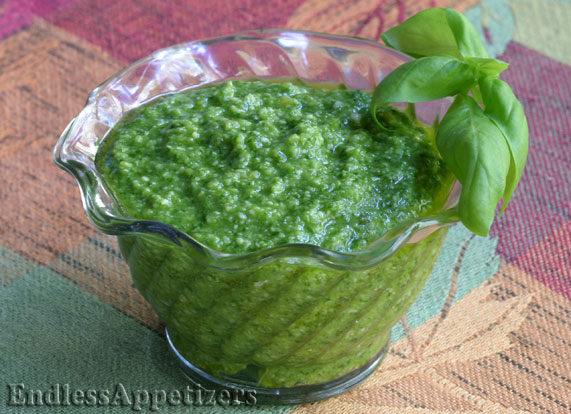 Tips:
Store in refrigerator. Using live, growing basil in pots is recommended for freshest results.
Suggestion:
Delicious with pasta, sandwiches, pizza, appetizers and more.
Pesto (sometimes referred to as "Pesto Sauce" is a full-flavored and vibrantly green-colored sauce made from fresh basil leaves, pine nuts, garlic, Parmesan cheese and olive oil. This Pesto recipe is incredibly easy to make, and processes in your food processor in just seconds. Some stores do carry premade pesto in a jar, but once you see how easy this pesto sauce is to make and how
absolutely delicious it is, you'll become a dedicated and loyal follower of homemade pesto. There are typically 2 types of basil leaves you can purchase from the store in the produce section. One style comes in a plastic rectangular container with basil leaves that have already been picked and packed into the container. The other (and the best kind to buy) is alive and is still growing in a miniature pot filled with dirt. The leaves on the live plant are healthy and colorful, and will last for quite some time on your countertop, as long as you keep them resting in a small bowl partially filled with water (these basil plants come with specific easy watering directions). Both will definitely work with this recipe, but if you have a choice, I strongly recommend choosing the live plant. Pesto can be used in an endless variety of food preparations, including pasta, pizza, sandwiches, appetizers, and the list goes on. You can check out some recipes that use pesto or fresh basil below (or use your imagination!).
Ingredients
2 cups fresh basil leaves
3 large cloves garlic
1/4 cup pine nuts
1/2 cup Parmesan cheese
1/3 cup olive oil
Directions
Place basil leaves, garlic cloves, pine nuts and Parmesan cheese into food processor bowl and mix until mixture becomes crumbly. (Note: Stop once during processing to scrape ingredients from sides and bottom of bowl to ensure blades incorporate all ingredients.) While briefly processing again, gradually add olive oil through top opening of processor until thoroughly blended (about 10 seconds). Remove food processor top and stir briefly by hand to make sure oil and mixture are evenly combined.
Other recipes you might like: