Fruit Appetizers
When we think of appetizers and party food ideas, fruit appetizers and fruit snacks are not likely to be the first type of party food that comes to mind. Fruit appetizers should not be overlooked, however, because they are usually very easy appetizers to prepare, have their own unique flavor and texture, and will definitely brighten up your party or event! Because
"Fruit Appetizers" is a newly launched appetizer page, we begin with a small yet impressive collection of some tasty fruit appetizer recipes, three of which are olive appetizers (yes, olives are actually considered to be a fruit!). To possibly confuse you even more, while some may consider tomatoes a fruit, they are actually a vegetable. So, if you're looking for appetizer recipes that are made using tomatoes, you can simply browse around any of the pages on this site for appetizer recipes that use tomatoes in various forms. Also included with this list of fruit appetizers is a recipe for
Chocolate Covered Strawberries
, which although might seem more like a dessert, is actually the perfect sweet finger food appetizer to serve at parties, brunches, holidays, or any type of event, because they are only mildly sweet and are not filling. Although this Fruit Appetizer page begins modestly, it is certain to grow with many more delicious fruit appetizer recipes, so be sure to check back again from time to time!
Fruit Appetizer Recipes ▼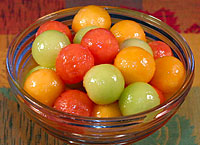 Honey Lime Melon Balls
can be served with toothpicks as an appetizer or as a colorful
fruit salad
. Cantaloupe, honeydew melon and watermelon come together to create this colorful fruit appetizer that will bring life to any table! Assorted melon balls are marinated in a Honey Lime dressing that gives this fruit appetizer a delightful tart and sweet coating. May be served as a fruit snack, a fruit salad or a light and healthy dessert.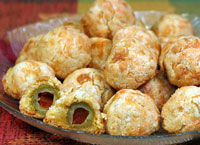 Olive Cheese Balls
is a fun appetizer recipe that is easy to prepare and cooks in just 15 minutes. The dough is made with a simple mixture of cheddar cheese, Parmesan cheese, butter and flour, and offers a wonderful complimentary flavor and crunch to green olives. These appetizers are tasty when served warm, at room temperature, or cold right from the fridge! Delicious served with
Ranch Dressing
or
Zesty Ranch
for dipping!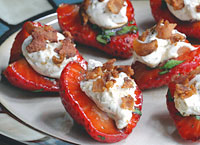 These
marinated strawberries
are truly unique, beginning with tossing halved strawberries with a marinade of balsamic vinegar, chopped fresh basil and fresh parsley. Mascarpone cheese is combined with a small amount of freshly ground pepper, then piped or spooned onto each strawberry half. Crumbled bits of crispy bacon are then sprinkled on top of the cheese, giving these strawberries a delightful crispy crunch.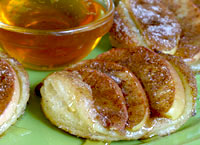 This
Mini Honey Apple Tarts recipe
is amazingly easy to make, and requires only a few simple ingredients. All you need to make these mini apple tarts is a package of puff pastry and 1 or 2 apples. If you have sugar, cinnamon and honey in your pantry, you're set to go! Simply cut the puff pastry into circles, then top with thinly sliced apples and sprinkle with a cinnamon, sugar and nutmeg mixture, then bake! Drizzle with honey and enjoy!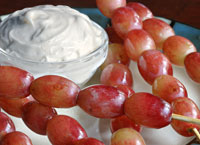 Skewered Grapes served with Cheesecake Dip
are versatile, in that they can be served as party appetizers, party desserts, or as fun fruit snacks any time of day, any time of year. The Cheesecake Dip is made with softened cream cheese, vanilla yogurt, vanilla extract and a little sugar for a touch of sweetness. Once your guests experience how amazing grapes taste with this incredible Cheesecake Dip, they will quickly disappear!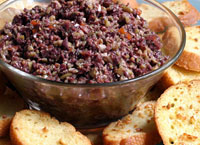 This recipe for
Tapenade
(also sometimes called
Olive Tapenade
) combines a mixture of kalamata olives (Greek olives), green olives, garlic, capers and olive oil (fresh thyme and/or anchovies may also be added if desired, though are entirely optional). This tapenade is full of robust and distinctive flavor, and tastes fabulous with baked crostini (shown in photo), pita chips, crackers, thin slices of crusty bread or crudités (fresh vegetables).