Skewered Grapes with Cheesecake Dip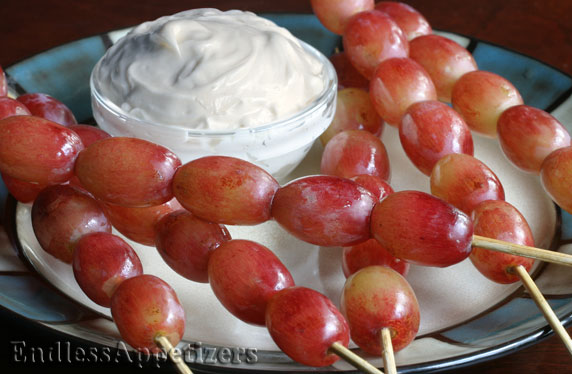 Tips:
4.5-inch wooden picks may be used instead of 6-8-inch skewers - simply pierce wooden picks lengthwise through 3 grapes instead of 6 grapes. May be prepared in advance until ready to serve. Simply place skewered grapes on a tray or baking sheet covered with plastic wrap, and store Cheesecake Dip in an airtight container or cover with plastic wrap and store both in the refrigerator. When ready to serve, give Cheesecake Dip a quick stir to soften.
Suggestion:
Serve as a fruit appetizer or fruit dessert for parties, holidays or anytime.
Most kids love cheesecake as much as the rest of us do, and that is why this Skewered Grapes with Cheesecake Dip recipe is the perfect solution when it comes to kids' party food! This fun party snack is versatile, in that the Skewered Grapes and Cheesecake Dip can be served at kids' parties as a healthy snack or a healthy dessert, or as fun fruit snacks any time of day, any time of year. If you're looking for fun and easy appetizers for kids, it just doesn't get much easier than this,
and the kids will be happy to help putting the grapes on the skewers if you need a helping hand. Simply skewer 6 grapes on some wooden skewers, then whip up the Cheesecake Dip in just minutes using an electric mixer. The Cheesecake Dip is made with softened cream cheese, a little vanilla yogurt, vanilla extract and a little sugar for a touch of sweetness. Once the kids discover just how amazing grapes taste when combined with this vanilla flavored Cheesecake Dip, this party snack will quickly disappear!
For convenience, these fruit appetizers can be made in advance and stored in the refrigerator until you're ready to serve them. Simply place the skewered grapes on a tray or baking sheet and cover with plastic wrap. If the grapes will be eaten shortly after preparing them, they can sit at room temperature. If you plan to serve them the next day, store them in the refrigerator. Once the Cheesecake Dip is prepared, store that in the refrigerator as well. Just before serving with the grapes, briefly stir the dip with a fork. This fun party snack is sure to be a huge hit!
Ingredients
Skewered Grapes

96 red seedless grapes
16 6-8-inch wooden skewers



Cheesecake Dip

8 oz. cream cheese, at room temperature
1/4 cup sugar
1 tablespoon vanilla yogurt
1/2 teaspoon vanilla extract
Directions
Skewered Grapes
Skewer 6 grapes lengthwise onto each of the wooden skewers so the grapes touch one another. (Note: If you are using 4.5-inch wooden picks, simply skewer 3 grapes lengthwise onto each pick instead of 6.)
Cheesecake Dip
Place cream cheese and sugar in a medium
mixing bowl
bowl. Using an
electric hand mixer
, beat until well combined and smooth. (Alternatively, cream cheese and sugar can be mixed using an
electric mixer
.) Add yogurt and vanilla and beat again on low speed just until blended.
Transfer the cream cheese mixture into a decorative bowl and serve on a tray or large plate surrounded by the skewered grapes, making sure the pointed sides of the skewers are facing the dip bowl.
Other recipes you might like: